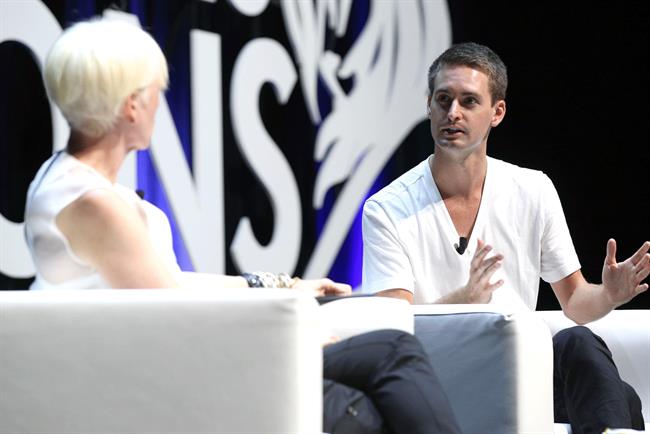 CANNES — Brands should not try to be friends with people on social media, said Evan Spiegel, the co-founder of Snapchat, at the Cannes Lions festival this morning.
Spiegel was interviewed by Joanna Coles, the editor-in-chief at Cosmopolitan. "It's weird when brands act like your friend," Spiegel said. "They need to be friendly, but not a buddy."
The photo- and video-sharing app opened up to advertisers last year, and has grown from 10 employees last year to 450.
Samsung became the first brand to sponsor the stories feature in November last year for The American Music Awards, uploading backstage photos and videos. Stories creates a chronological timeline of events.
Spiegel explained that the app has been moving to reporting on news events, such as the Charleston shootings last week. He said: "I think many different perspectives are better than a couple, [there is] a depth of experience that you can't get with other linear channels.
"[Covering the events in Charleston] was scary for us; we did feel a huge sense of responsibility. We would usually cover a basketball game, for example, which has a very clear narrative."
When asked whether Snapchat is becoming a news brand, Spiegel said the company has hired journalists.
In terms of advertising, Spiegel said Snapchat found ads to be more effective when inserted into the middle of feeds.
He said: "It means that people are more likely to watch it as they are in the middle of the stream.
"We've been able to show that creative matters and people will watch good creative."
Before Snapchat introduced advertising Spiegel said the team worked on making sure that ads can appear in a good format on the mobile site.
He said: "We were stunned that most people were still taking wide screen creative to mobile, and we found that no one rotates their phone."
Coles explained that Snapchat does not collect as much data on users, compared with other social media sites, to which Spiegel replied: "We really care about not being creepy."
This article first appeared on campaignlive.co.uk.