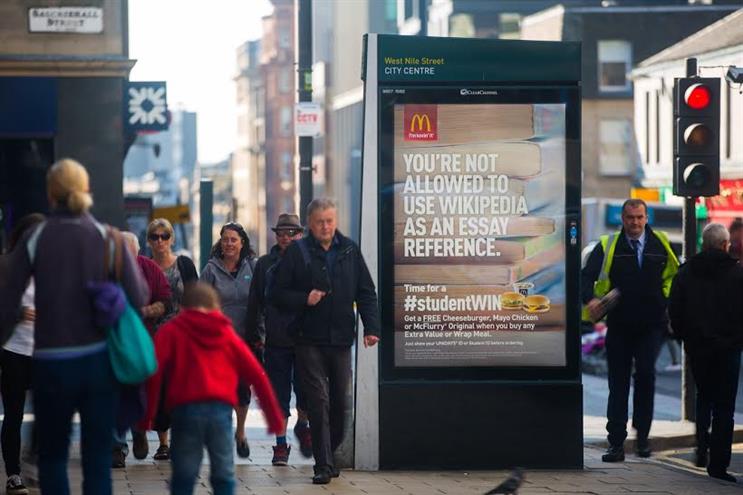 The research by BrandScience, the Omnicom econometrics and data science business, analysed over 211 OOH ad campaigns between 2011-2015 and was commissioned by Talon, the independent outdoor media specialist.
It found that, when the costs of digital and traditional OOH are taken into account, the optimal proportion of DOOH is about 45 per cent. Above this level, returns are diminishing, the study said.
The report also makes recommendations for different groups of advertisers on how to maximize return on investment when combining digital and traditional OOH as part of a wider media mix.
For instance, grocery retailers' optimal OOH investment is about £7 million, which yields about 70 per cent in incremental value.
The report also recommends that, for sales effect alone, grocery retailers should use OOH as the lead medium for spends of under £25 million a year.
Meanwhile, for travel companies, the optimal OOH investment is about £2.7 million, which yields about 15 per cent in incremental value.
The report also said OOH improves the rate of return on invesment for all other media used in an ad campaign, except for print.
Sally Dickerson, the global chief executive at BrandScience, said: "We can clearly measure out-of-home effectively and we have proved that a slightly increased OOH spend – in many cases – delivers higher ROI."
BrandScience and Omnicom now plan to use data from the study to recommend budget levels for all media channels.
Nick Mawditt, the director of insight and marketing at Talon, said: "This is a great example of the industry coming together to look objectively at how out-of-home works for brands.
"Not only have we a clearer idea of how it works, we know that DOOH works hard in driving the right message in the right context to complement classic OOH messaging – the first real insight of its kind."