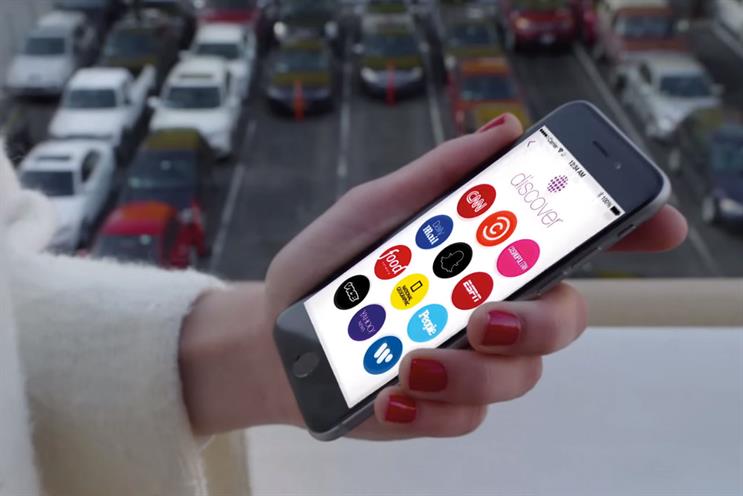 The messaging app Snapchat is looking to swipe a chunk of mobile ad revenues with its snack-able news service, Discover – offering advertisers a chance to get on to the smartphones of the UK's teenagers and twentysomethings.
Discover, which is embedded in the Snapchat app, offers swipeable news feeds of short-form video and easily digestible content from 15 media brands, including BuzzFeed, Sky, Vice and MailOnline. Cosmopolitan has just unveiled a dedicated UK channel on the service, after testing the water with a global feed, and will run 12 stories a day on Discover as part of the magazine's relaunch plans.
Anna Jones, the chief executive of Hearst Magazines UK, says the title is working with brands to offer packages including sponsorship and native advertising on the channel. "Snapchat works for us because it works for the Cosmopolitan audience," she explains.
There is vast advertising potential on Discover. Content and ads are shareable with a couple of taps on the app and the platform is vying to become the next big thing in social media marketing.
MailOnline launched its first ads on the service in the UK in March with Starbucks, Sony and Specsavers, negotiated by Manning Gottlieb OMD. The agency's head of social media, Tim Pritchard, quotes comScore figures showing that Snapchat has a total UK audience of seven million people with a daily average of three million visitors, skewing strongly towards teenagers but also hitting those in their early twenties.
"Discover offers a real opportunity for heritage media brands to reach a younger audience," he says. "It feels like an exciting, totally fresh way of delivering content, with lots of short-form video – very user-friendly for skipping around content."
Meanwhile, MG OMD's mobile manager, Rob Agosti, says there could be an advantage for media brands getting in early and establishing their services before rivals.
Discover was relaunched in July so that it could be accessed on the first swipe of the Snapchat app – leading to complaints from some users that the core messaging proposition was being diluted.
However, visits to the Sky News channel on Discover have increased by 219 per cent since the relaunch, according to Alan Strange, its editor of on-demand. The company has created a dedicated Discover team to tailor news content and create animations, videos and games.
Cosmopolitan's UK launch earns a thumbs up from media buyers as a forward-thinking way of tapping into younger audiences. But it also presents challenges, as Catie Dear, a media planner and buyer at the7stars, says: "Editorially, it is a lot of commitment – everything has to be tailored to be relevant; otherwise, why are people going to come back? When everything is available for free, you have to work hard to get them to come back."
Jasmin Kocur, the head of content and distribution at the agency Lost Boys, says the opportunities are vast but believes the biggest challenge will be measuring the effects and creating powerful analytics for advertisers.
Snapchat is rapidly bolstering its offer and hiring top-flight Silicon Valley executives and engineers to boost its appeal and turn Discover into a smartphone smash. Just last week, the senior Facebook executive Anthony Pompliano was hired to lead Snapchat's growth team.
Some may worry that long-established media brands are being forced into ever-more subordinate positions by social media – Discover turns the likes of Cosmopolitan into an app within an app inside another app. But if that gives brands a shot at reaching younger, mobile-fixated audiences, few will disagree that it is a price worth paying.