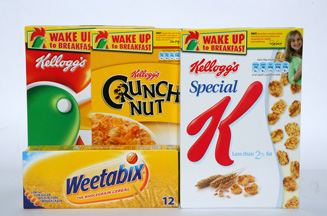 The £3m ad campaign, due to break next month across TV, radio, outdoor and digital, aims to increase public awareness of the dangers of consuming too much salt. The push has been created by the FSA's recently appointed ad agency MWO, and will flag up the hidden salt levels in cereal, bread, ketchup and soups.
The Association of Cereal Food Manufacturers (ACFM) will represent cereal makers at the meeting with the FSA.
Chris Wermann, regional corporate affairs director for Kellogg's European operations, said of the campaign: 'We don't believe it's appropriate, considering the volume of salt we actually deliver to the UK diet.'
According to the ACFM, since 1998 cereal brands have lowered salt levels in their products by an average of 44%, and now contribute less than 5% of salt to the diet of the UK population.
The FSA said the campaign would take a positive approach and would not 'demonise' any food groups.
Salt levels
Adults should eat no more than 6g of salt a day, and babies less than 1g.
The Food Standards Agency has set a target of reducing the average salt consumption of adults to 6g a day by 2010, from its present level of 9g.
About 75% of salt in UK diets comes from processed food.