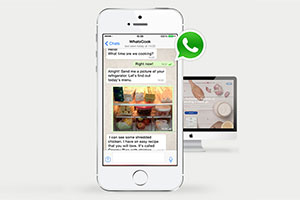 That's almost one seventh of the world's population now using the service every month, overtaking Facebook's own Messenger app, which has reported 800 million monthly users.
WhatsApps' founders have always pledged to avoid third-party ads but brands are finding other ways to reach users.
Clarks Originals Desert boot campaign
Clarks Originals used WhatsApp to bring to life the history of its Desert boot.
The 'From Rats to Rudeboys' digital campaign introduced users to characters from three countercultures – The Mod, The Enraged and The Rudeboys.
Each character explained how they had incorporated the shoe into their own style. Users could add them on WhatsApp and receive updates from them.
Dutch airline KLM trials WhatsApp for frequent flyers
KLM selected 100 members of its Flying Blue frequent-flier program for a WhatsApp trial that used the platform to answer queries about upgrades and seat availability.
Joost Ruempol, a spokesperson for KLM, told USA Today, "We see people moving from traditional social media platforms like Facebook and Twitter to new platforms, such as WeChat in China and WhatsApp."
Customers used the platform to ask, "real service questions regarding booking requests, upgrades and seat selection. As Whatsapp is easy to use, we see a different pattern in usage. Messages are shorter and more personal, it is easier to react and we see more messages going back and forth."
The pilot began in March 2015. The airline hasn't yet announced whether it will roll out to all its customers.
Hellmann's Mayonnaise WhatsCook campaign
The WhatsCook real-time service connected people to professional cooks who taught users how to create a meal using ingredients they already had in their kitchen.
To take part, participants were asked to submit their numbers to the Hellmann's website. The chefs would then get in touch via WhatsApp with a recipe that used the brand's mayonnaise and teach the inquirer how to cook it.