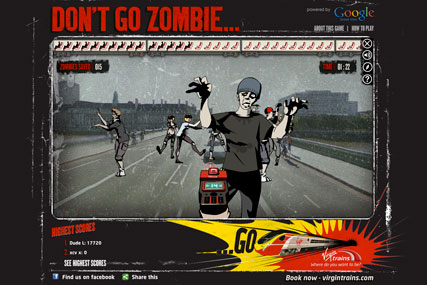 The game, designed by digital marketing agency Elvis, extends the brand's current advertising campaign and pits online users against daily motorists, who have become "zombified" by the commuter traffic.
Users simply enter their postcode at www.dontgozombie.com and Google Street View transports them to their virtual location where they must use a Virgin Train ticket dispenser to fire train tickets at the zombie drivers, saving them from traffic congestion.
Branson is set to become a zombie later this month.
If you fail to defeat the flesh-eating hordes with public transport, your Facebook profile picture can be changed into a zombie avatar until another user saves you.
The highest-scoring zombie fighters will be entered for a chance to win a first- class journey aboard Virgin Trains,
Branson said, "At Virgin Trains, we aim to make your journey as quick and stress-free as possible. Anyone who has ever experienced the M6 knows very well that long motorway journeys can suck the life right out of us, turning us into zombies. So we are urging people to ditch their cars, and hop onboard.
"Over the years, I've appeared in many fun guises, but never as a zombie – at least I'll know what I'll look like if I ever come back as one of the undead."
He added: "The new 'Don't Go Zombie' campaign encapsulates our vision of liberating travellers from the drudgery of mind-numbing car journeys."
Annerie Hughes, head of marketing at Virgin Trains, said: "We're very proud to have created an exciting new interactive Google Street View game, which I'm sure will help increase usage of our trains as well as driving further awareness of the brand."