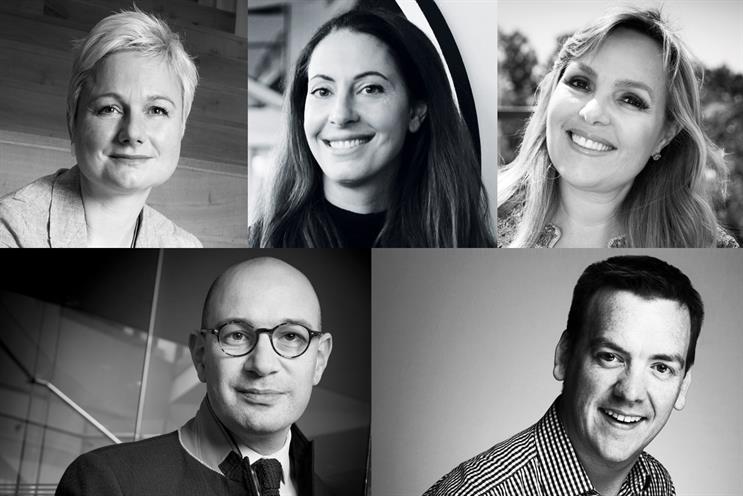 It's been two years since The Marketing Society launched its brave agenda. Since then, it has "tackled taboos, broken down barriers and faced up to sometimes uncomfortable truths".
Brave marketing is becoming more commonplace, with a growing number of brands adopting a social conscience. Of course, behind those brands are brave marketers, and this year The Marketing Society is changing its Marketing Leader of the Year award to The Bravest Marketing Leader 2019.
In previous years, Marketing Society members and Campaign readers voted for whom they wanted to win. For the new award, The Marketing Society will ask its shortlist to present to a panel of senior marketer judges.
The judges, led by The Marketing Society president and Diageo chief marketing and innovation officer Syl Saller, will be looking for evidence of brave marketing leadership over a sustained period of time, not just around a single campaign.
Below is the shortlist – five marketing leaders who have made a difference to the industry, whether that's adding value for customers, growing brand share or demonstrating the value of marketing.
"We are on the hunt for a marketing leader who fits this brief, who is a real game-changer, a pioneer leading the way forward to a new and braver industry and, importantly, someone who is an inspiration to all marketers in the UK," Gemma Greaves, The Marketing Society's chief executive, said.
"The winner will be someone who has demonstrated not only marketing excellence but also bravery in their approach to a considerable challenge, pushed boundaries or made an impact either in business or society in general."
The shortlist
Benjamin Braun
Chief marketing officer, Samsung Europe (former marketing and digital director, Audi UK)
After three years as marketing and digital director at Audi UK, Benjamin Braun caught the attention of Samusung, which he joined in March as chief marketing officer for Europe. Braun certainly made his mark on the automotive brand, creating beautiful, mould-breaking ads – including the Cannes gold Lion winner "Clowns" – and overhauling its approach to marketing.
His personal mantra is "dare to be different", an ethos he applies to himself and inspires in his team. While at Audi, Braun was relentless in pushing beyond the boundaries of a sector often characterised by convention, epitomised by his strategic brainchild "Beautiful cars with amazing brains". He completely reinvented the car marque's events strategy, transformed its digital experience and reengineered its media approach. His work has been recognised with a coveted Grand Prix at the IPA Effectiveness Awards. His charismatic and risk-taking approach to marketing at Audi left an indelible impression.
Mark Given
Marketing director, Sainsbury's
The big four supermarkets are vying for attention in an increasingly competitive retail sector and facing threats on numerous fronts, from the economic instability around Brexit to the online giants and German discounters. It's an environment that demands brave marketing leadership, thankfully a quality that Mark Given has in spades.
In just two years, he has reshaped Sainsbury's marketing function, creating a team blending creativity with data and digital. Given also epitomises the growing influence of marketing in the corporate boardroom. Realising the importance of fully owning its customer data, he convinced the board that Sainsbury's should acquire the entire Nectar loyalty scheme and negotiated the £60m deal in 2018.
Given is not one to shy from tough decisions, having had to cut his team's headcount by 30%. He has done this while also leading the way on diversity and inclusion, with more than 50% of Sainsbury's senior marketing leaders being female and 20% from a BAME background; he has also fostered an open working environment around mental-health challenges. With Given and his team producing about 500 campaigns a year, the pressure is unrelenting and, as he says, it "takes balls of steel".
Michele Oliver
Global corporate brand director and purpose director, Mars
Chocolate marketing is often wacky, downright objectifying or just saccharine. Making it socially conscious and taboo-busting, yet funny, takes a brave marketer. Michele Oliver has propelled Mars' marketing in that direction, producing advertising that tackles issues including sexuality, disability, race, age and gender.
Oliver and her team's award-winning "Look on the light side" campaign for Maltesers started by redefining the roles of disabled people in advertising and now includes gay and older women, celebrating awkward but often funny moments in their lives. Meanwhile, through Mars' "donation" of the Skittles rainbow icon to Pride and Snickers' partnership with Gay Star News it has embraced LGBT+ communities.
Last year Oliver was promoted to her current role, as part of Mars' mission to take its diversity agenda global. She also advocates diversity via her role as a non-executive director of The Marketing Society and a trustee at Stonewall. And yet for such a busy, formidable woman, she is not afraid to show weakness and believes kindness is the most underrated leadership quality.
Martina Poulopati
Global brand communication manager, Essity (Bodyform)
When an initial version of Bodyform/ Libresse's boundary-breaking "Blood normal" film met with resistance from broadcasting authorities in several countries, Martina Poulopati, her team and creative agency Abbott Mead Vickers BBDO decided to change the ad. But not by toning down the content. On the contrary, Bodyform reworked the commercial to incorporate the objections, while the inevitable social-media fallout the ad provoked was not merely ignored but became central to the campaign as it ran.
Poulopati continues to challenge conventions, with a prude-defying follow-up campaign celebrating vulvas to promote its shower gels. 2018 was an outstanding year for Bodyform, with "Blood normal" winning The Marketing Society Brave Brand of the Year accolade. Given its industry-wide, global recognition, it's easy to forget just how brave Poulopati was, summed up in her words before the work's launch: "I'm going to lose my job. But, let's do it anyway."
Aline Santos
Executive vice-president of global marketing, Unilever
A s a little girl growing up in Brazil, Aline Santos' mother told her she was a born activist. She has spent her life fighting for causes and bringing her spirit of activism to bear on her role at Unilever. Having joined the company in 1989 as a marketing trainee, she was part of the Dove global brand team in 2002 when "Beauty theory" was created.
Santos admits that breaking barriers is not always easy, but at Unilever she and her team have "addressed the elephant in the room", rolling out training to combat stereotyping. She has also introduced flexible-working creches, more generous maternity leave and measures to tackle unconscious bias. It's an ideology that extends into Unilever's marketing output, such as in Dove's #RealBeauty and Lynx's #FindYourMagic campaigns.
More recently she has been rallying the industry to remove stereotypes in advertising through #Unstereotype and The Unstereotype Alliance with UN Women.
The Bravest Marketing Leader 2019, in association with Campaign, will be announced at the Brave Awards on 12 June at the Tower of London. A full list of the judges is available at here