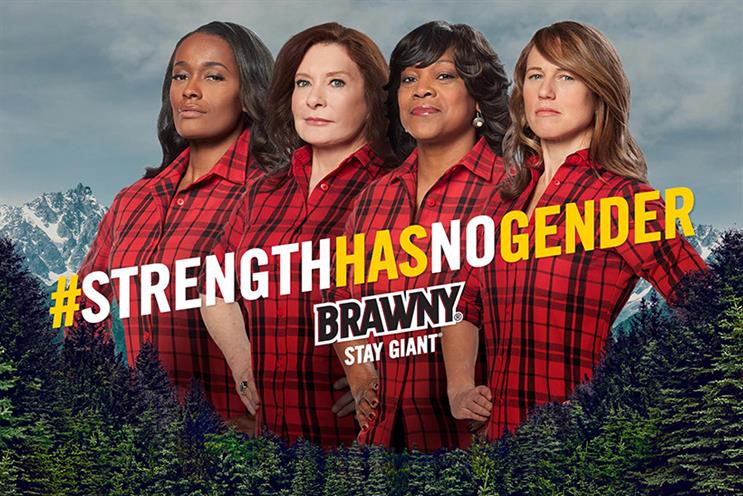 For the first time, women are wearing Brawny Man plaid. In celebration of Women's History Month and timed to International Women's Day tomorrow, the Georgia-Pacific paper towel brand is introducing four Brawny women in a digital campaign #StrengthHasNoGender.
The campaign, created by San Francisco-based Cutwater, centers around documentary-style videos that profile four women in traditionally male professions: Linda Alvarado, CEO and president of Alvarado Construction in Denver, Colo., and co-owner of the Colorado Rockies, the first Latino owner in Major League Baseball; Swin Cash, Olympic Gold medalist, WNBA champion and first female host for MSG Networks; Dr. Valerie Montgomery Rice, the first female president and dean of the Morehouse School of Medicine in Atlanta, Ga; and Maureen Stoecklein, a firefighter in Canton, Mich.
Frances Morgan, brand manager for Brawny, said the initiative was created to inspire and empower the brand's core target of 25- to 54-year-old women. "We wanted to celebrate women who had overcome adversity, who showed strength and resilience, and didn't let anything get their way when they set their mind to achieving a goal," Morgan said. "All four of them did that. They didn't let anything get them down."
In the videos, the women talk about their lives and careers and how they overcame challenges to achieve their goals. For example, Cash talks about how her grandmother once told her that people are going to identify her by her race and gender and she could either "use it as an excuse as to why you wouldn't get things done, or you can go out and prove everyone wrong."
Each video cuts between the women telling their story to camera and scenes of each of them putting on the iconic red shirt for a photo shoot. The videos end with the women, arms at hips, in the classic Brawny packaging pose, a giant towering above trees, with the message #StrengthHasNoGender and the brand's "Stay Giant" tagline. "Strength isn't defined by a man or a woman," says Cash, at the end of her clip. "Strength is defined by the person."
"When you look at women's struggle, and the things they've been through, they've been incredibly resilient," said Chuck McBride, founder and chief creative officer of Cutwater. "So why wouldn't a brand that is in service to this customer honor them in a way that is befitting of the audience."
The #StrengthHasNoGender campaign will be featured on the brand's website and social media pages and encourages fans to share their messages of strength using the hashtag. It will also include a 30-second clip showing only the sequence of Cash getting into the giant stance. "The Brawny Man is not there and she walks right up to his set and takes the pose," described McBride. "It's a nice little way to let everyone know we are committed to this woman owning this space for a while."
While it's the first time women have worn the Brawny Man's iconic red plaid, it's not the first time that the icon has stepped aside to let others strike the giant's pose. Last fall, humorous TV ads introducing the "Stay Giant" message ended with the ads' main characters towering above cityscapes while holding tiny packages of the paper towel. The campaign recast the larger-than-life icon as a representation of inner strength. "We are talking about a sense of resilience, something the Brawny brand really stands for," McBride said. "We are advertising the emotional value of the brand as opposed to a product property of the brand."
The Brawny Man, first introduced in the 1970s, "really lives in all of us," Morgan added. "The 'Stay Giant' message is really meant to encourage people to let their inner Brawny man, be strong and resilient in the face of adversity, shine through," she said. "He is stepping aside a bit for the month of March to let these women, and all women, have the spotlight."
Campaign credits
Client: Georgia-Pacific
Agency: Cutwater
Creative Credits: Brawny – #StrengthHasNoGender
Agency: Cutwater LLC
Agency Location: 950 Battery Street, 4th Floor, San Francisco, CA 94111
Founder/CCO: Chuck McBride
Principal/President: Christian Hughes
Executive Producer: Daniel Tuggle
Associate Creative Director: Gong Liu
Account Director: Sarah Owens
Senior Account Manager: Greer Gonerka
Associate Content Producer: Kimberly Lewis
Production Company: kaboom productions
Executive Producer / Owner: Lauren Schwartz
Directors: Ricki Stern and Annie Sundberg
Producer: Suzanne Umberger
Editorial Company: Hustle Co.
Executive Producer: Daniel Tuggle
Editor: Naomi Goodman
Editor: Inome Callahan
Editorial Company: Misfit Editorial
Executive Producer: Jim Vaughan
Editor: Marissa Rosado
Audio: MSquared
Chief Audio Engineer: Mark Pitchford
Color: Color A Gogo
Executive Producer: Kim Salyer
Colorist: Kent Pritchett
Music Supervision: Blue Scout Music
Music Supervisor: Joey Prather