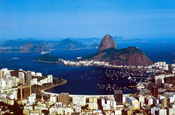 The UK is one of the target markets for the campaign, along with the US, Canada, Germany, Spain, Italy, France. The work will also run in other countries in South America.
The campaign, which will run until next June, shows the different experiences visitors to the country can enjoy, including adventure tourism, beaches, culture, archaeology, good food and the Amazon rainforest.
It is being run under the direction of the Brazilian tourism body Embratur, which was founded in 2003.
Luiz Barretto, Brazil's minister of tourism, said: `The objective is to create higher demand for Brazilian destinations and support the products and services within those destinations. We want to share the beauty and wonders of Brazil with more tourists, encourage them to stay longer and become acquainted with new places.'