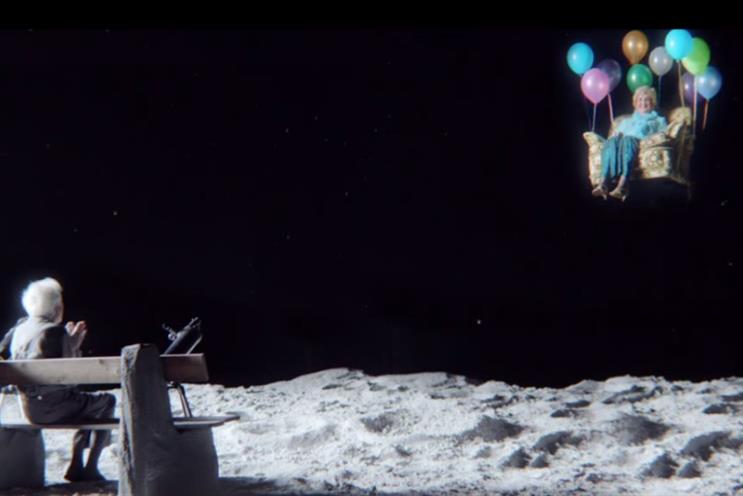 Aldi finds a friend for the #ManontheMoon
Aldi has spoofed John Lewis' emotive 'Man on the Moon' Christmas ad. Its version features both a cheaper telescope, while the lonely old man gets a companion in the form of Aldi granny Jean Jones, who has featured in the retailer's previous ads.
The spot focuses on a Premium Telescope, which at £69.99 is cheaper than the version promoted in the John Lewis ad.
The ad has already generated comment on YouTube, though not everyone gets the joke. One user wrote: "This is too similar to the John Lewis advert.i have to say that I personally think that they have copied the idea of the man on the moon."
Jonathan Neale, joint managinig director of corporate buying at the retailer, said: "Jean quickly became a national treasure for her love of our Oliver Cromwell London Dry Gin when she first appeared on screens in 2011. We're confident our customers will be excited by her return this Christmas."
He added: "Our latest advert highlights Aldi's ongoing commitment to offering high quality products at unbeatable prices that shoppers will be over the moon with."
Source: Aldi
Seb Coe under growing pressure to quit Nike role
Seb Coe is staying put in his £100,000-a-year role as Nike's ambassador, despite growing pressure to sever his ties with the brand.
A leaked email, obtained by the BBC, have shown the IAAF president voiced his support for the 2021 World Athletics Championships to come to Eugene, Oregon, which is closely associated with Nike.
The email, sent by a senior marketer at Nike, suggests that Coe, then vice-president of world athletics, reached out to then-IAAF president Lamine Diack to support Eugene's bid. Diack is currently under investigation for corruption.
Eugene was awarded the championships, but both Coe and Diack denied any Nike influence over the proceedings.
Source: BBC
In case you missed it...two longer reads
This month we looked at new economic models and how marketing fits into a future of potential postcapitalism. Read all our insights and news from the theme in one place.
Lidl's marketing and advertising director, Arnd Pickhardt, scooped the Marketers' Marketer of the Year award after being voted in overwhelmingly by elite industry players in Marketing's Power 100.
If you watch one video today...
Rather than a video, this week we're pointing you towards our new podcast. Listen to the third episode below and find out more here.