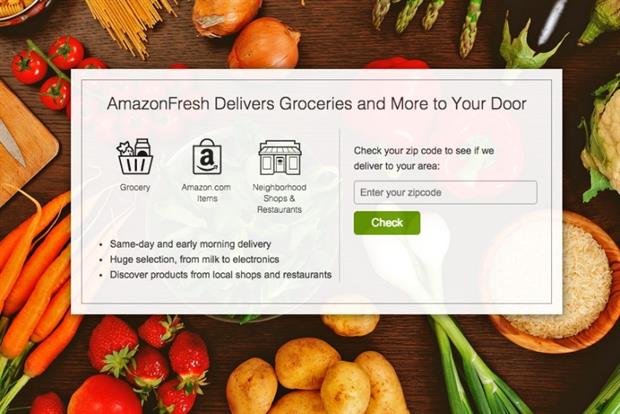 Amazon to deliver fresh food to Prime customers in UK trial
The UK has been long-awaiting Amazon's grocery business in the UK after the internet shopping behemoth announced a trial would be coming this year.
Prime customers in London and Birmingham will be the first to be able to order fresh and frozen food from Amazon, as the trial launches this week in Birmingham and London later in the month.
The initial trial will see between 50 and 60 frozen and fresh products available for delivery as part of its one-hour Prime delivery service.
Source: The Guardian
Sainsbury's half-year results barely show green shoots of recovery for the grocer
Sainsbury's has posted its second quarter results this morning with like-for-like retail sales down 3.3% (with fuel sales included). Total retail sales without fuel included were more positive, with a 0.3% increase.
The retailer believes its full-year underlying profit before tax will come above published expectations as the volume of sales increases. The grocer has aligned these positive figures to customers valuing its focus on lower prices, improvement to its own-brand range and commitment to health via the reduction of sugar in products such as yogurt.
Source: Sainsbury's
Airbnb buys little-known Russian hardware and design business Lapka
Airbnb has made a surprise acquisition in the form of Lapka, a Russian design studio that specialise in high-end, beautiful connected device design.
According to Wired, Lapka has been behind the design of a smartphone-assisted breathalyser and a set of "concept sensor nodes" for Google's Ara phone.
Airbnb has said that it acquired the company for the talent and has not yet elaborated on any further details as to whether it will be creating any hardware products or connected devices itself.
Source: Wired
In case you missed it...two longer reads
Marketing, in partnership with Sky Media, is proud to unveil the inaugural shortlist for the New Thinking Awards, composed of the leading brands and agencies that have shown they are pioneering change.
Cadbury's "gorilla" has been named the public's favourite ad of all time, while marketers' top ad is Guinness's "surfer', according to polls run by Marketing celebrating the 60th anniversary of the TV ad break.
If you watch one video today...
Rather than a video, this week we're pointing you towards our new podcast. Listen to the first episode below and find out more here.
You can also watch Marketing's interview with McDonald's CMO Alistair Macrow
He lifts the lid on the fast food giant's most significant campaign focused on quality and provenance.