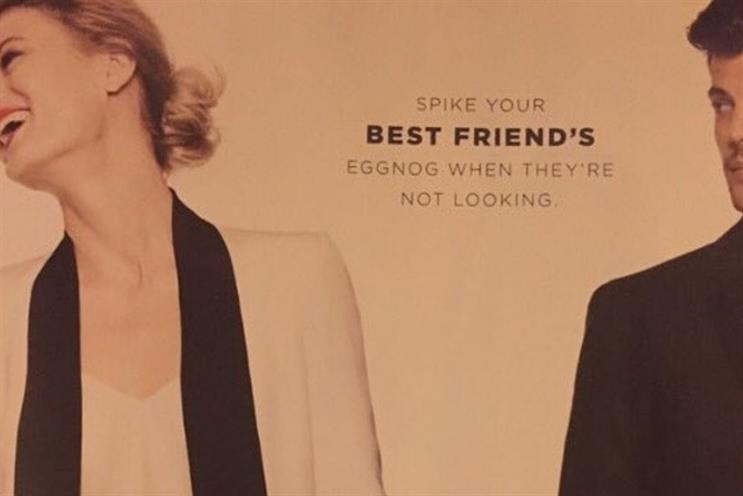 Bloomingdale's comes under fire for 'date rape' joke in catalogue ad
High end American department store Bloomingdales has had to apologise to customers after complaints that an ad in a festive catalogue jokes about date rape.
The ad (above) suggests "spike your friend's eggnog when they're not looking" which many have criticised for encouraging date rape. The retailer has since put out an apology on Twitter.
Source: The Guardian
Apple to introduce person-to-person payment service
Apple is reported to be considering adding person-to-person payment services to its Apple Pay product, putting it in competition with PayPal's Venmo.
While person-to-person transfers aren't charged on and would make little impact to Apple's business model, the Financial Times reports that Venmo did over $2.1bn in transactions in the third quarter of this year. Person-to-person transactions can help lure users into the service, leading them to use it to pay for goods with merchants, which Apple would take a cut of.
Source:The Financial Times
TalkTalk hack could have cost up to £35m
Talk Talk chief exec Dido Harding has said the hack on its business would cost between £30-35m.
Speaking to the BBC, Harding admitted the damage the hack would cost but said "well positioned to deliver strong and sustainable long-term growth" and that its full-year results would be in line with market expectations.
She added that in 'recognition of the uncertainty to customers' the business would be giving out upgrades to all.
Source: BBC
In case you missed it...two longer reads
This month we looked at new economic models and how marketing fits into a future of potential postcapitalism. Read all our insights and news from the theme in one place.
Lidl's marketing and advertising director, Arnd Pickhardt, scooped the Marketers' Marketer of the Year award after being voted in overwhelmingly by elite industry players in Marketing's Power 100.
If you watch one video today...
Rather than a video, this week we're pointing you towards our new podcast. Listen to the third episode below and find out more here.