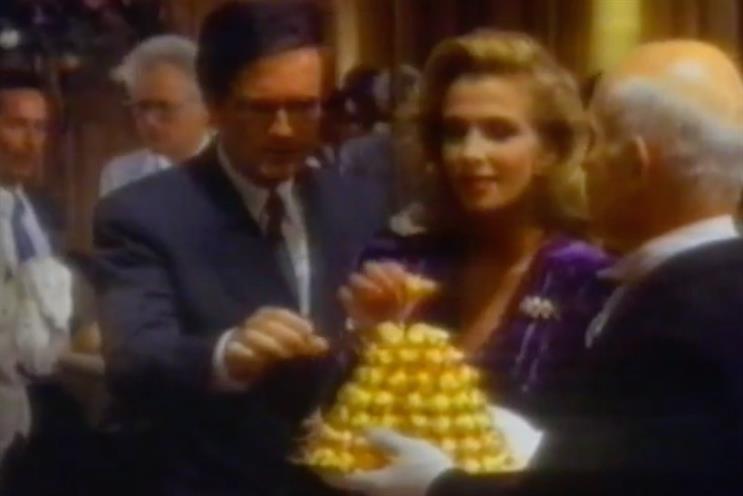 Ferrero makes £112m bid for British chocolate brand Thorntons
British chocolate brand Thorntons looks set to be gobbled up by Ferrero International, with the Italian chocolate maker offering 145p per share, valuing Thorntons at about £112m.
The news sent Thorntons shares rocketing 42%, with the board of the troubled chocolate maker and retailer urging shareholders to accept the offer. An acquisition is unlikely to see an end to the Thorntons brand, which is more than a century old.
Ferrero, which is synonymous with the corny, badly dubbed yet much-loved 'Ambassador's reception' ad of the early 1990s, also owns famous brands including Nutella, Kinder Eggs and Tic Tac.
Thorntons issued a profit warning in December and saw sales and profits fall in the six months to 10 January, due in part to poor supermarket sales. It owns 242 shops and cafes and 158 franchise stores.
Paul Wilkinson, Thorntons' chairman, said: "Ferrero is a successful global confectionery business with a strong family heritage and as such represents a good cultural fit for Thorntons.
"The board of Thorntons therefore has given its unanimous recommendation for the offer from Ferrero."
Source: BBC
Ladbrokes and Coral in merger talks about consolidating brands
Bookies Ladbrokes and Coral are in talks about a possible merger of their betting businesses, 17 years after Ladbrokes' bid to takeover Coral was rejected by then-business secretary Peter Mandelson because it was deemed anti-competitive.
The management of Ladbrokes confirmed to the Racing Post that its was in talks with the board of Gala Coral, but warned shareholders that discussions would not necessarily lead to a deal.
Ladbrokes said it was mooting a merger of Ladbrokes' and Coral's retail businesses, Eurobet retail and Gala Coral's online business, to create an operation that would be traded on the London Stock Exchange.
Although in 1998, Ladbrokes' move to acquire Coral was blocked by Mandelson, who said that a takeover "would damage competition and disadvantage punters", the betting market has changed dramatically since then because of the rise of online bookies and shift away from the high street.
Source: Racing Post
In case you missed it... two longer reads
Rather than predicting that social media will collapse in a puff of self-aggrandisement, academics believe our use of sites such as Twitter will become more sophisticated and empowering. Cheil Worldwide's chief digital officer, Peter Kim, lays down six predictions for the future at Cannes.
Costa's Carol Welch discusses why the UK's biggest coffee chain is sidestepping traditional advertising methods, chasing Starbucks and the importance of customer experience.
If you watch one video today...
Technology is no longer the future of retail, it is the present, according to Ian Thomas, managing director of Arc.