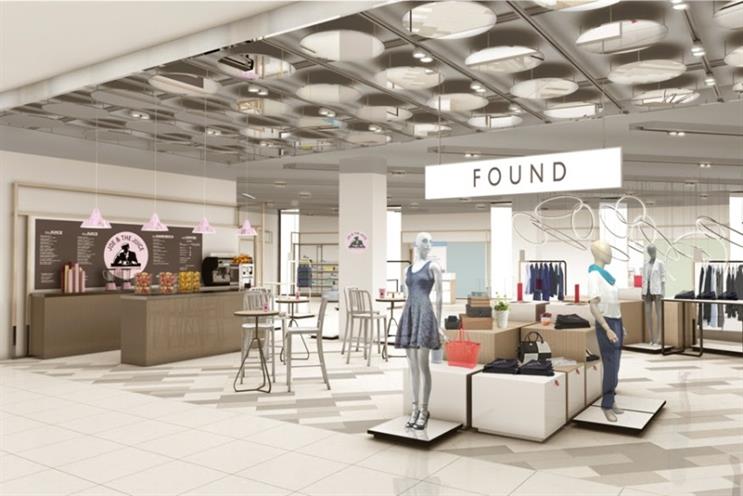 John Lewis turns fashion editor with Found concept
John Lewis will curate lifestyle collections spanning clothing, technology, accessories, beauty and homeware in a new concept called Found.
The retailer will bring together new and established brands in a boutique shopping environment in its new Birmingham store, set to open in September. Another Found concept will open in John Lewis Liverpool after a major store refurbishment. Found collections will also be available on the John Lewis site.
The idea is to bring an edgier aesthetic to the retailer's womenswear department and appeal to a younger, fashionable audience.
The retailer will introduce 27 new clothing brands, such as Des Petits Hauts, which will sit alongside accessories from Nike and Asics Onitsuka Tiiger, and tech accessories like Frends headphones and Braven speakers.
Paula Nickolds, brand and buying director at John Lewis said: "Found at John Lewis marks a fundamental shift in the way we sell fashion at John Lewis.
"The concept signals a real change of pace for John Lewis fashion. It will feel fresh and visually authoritative, bringing together a new selection of brands with existing collections in a concise way within a beautiful setting."
Nickolds added that John Lewis customers wanted an "edited selection" of products, extending beyond clothes into areas like lifestyle and home.
The news follows John Lewis' announcement that it was opening an own-brand beauty concept in its new Birmingham store, called &Beauty.
Source: John Lewis
Facebook builds drone for 10Gbits/sec internet access
Facebook has built its first drone that can deliver internet connectivity using a mix of radio and laser.
The craft marks a major step forward for Facebook's Internet.org project, which aims to bring the option of connectivity to the 10% of the global population that lives offline.
Mark Zuckerberg, CEO, said: "I'm excited to announce we've completed construction of our first full scale aircraft, Aquila, as part of our Internet.org effort.

"Aquila is a solar powered unmanned plane that beams down internet connectivity from the sky. It has the wingspan of a Boeing 737, but weighs less than a car and can stay in the air for months at a time."
Facebook claims to have solved several engineering challenges both in constructing the craft, which is made from material three times as strong as steel, and with the laser tech itself.
This can deliver data at 10Gbits/sec, ten times faster than previous laser systems and considerably more accurate, Zuckerberg said. It's worth noting that speedy internet would be shared among the whole population.
Zuckerberg said the company would test the system in the coming months, but gave no further detail.
Source: Facebook
In case you missed it...two longer reads
Bugaboos's bikini clad model shoot shows a "straight up lack of disrespect" for mums, argues Jules Keen, head of marketing at The Talent Business.
She argues it alienates the brand's core target audience by essentially catcalling, "Betcha wish your girlfriend/body was hot like me…" (delete as appropriate for male or female audiences).
Marketing's Rebecca Coleman tracks down five busy senior marketers and asks for their tips on how to kindle inner creativity and fight work weariness.
They share advice on the best ways to recharge, including "strictly no meetings after 3pm on a Friday."
If you watch one video today...
Watch Marketing's editor Rachel Barnes interview Unilever CMO Keith Weed about the company's partnership with Vice and the utility of artificial intelligence