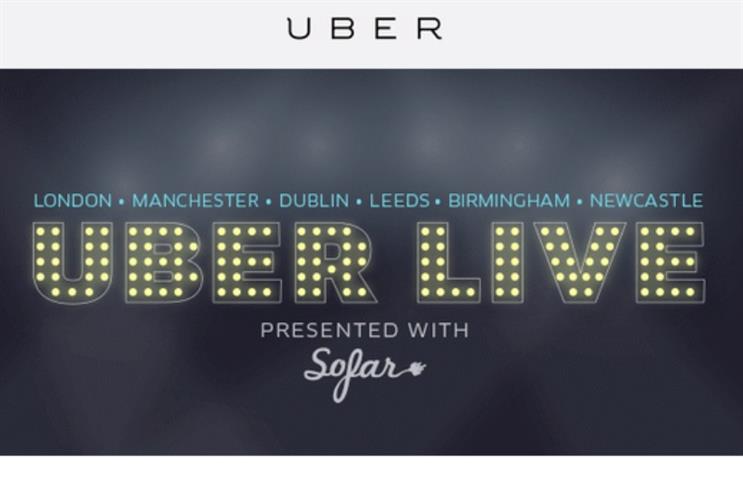 Uber Live launches in the UK
Uber has launched a marketing campaign in the UK, which will see customers taken on secret gigs via the taxi service. Customers have been sent information via social media and email, telling them to enter a special code by the end of Thursday 18 June, in order to be in with a chance to go to the secret gigs. The campaign has previously run in the US and is part of a partnership with Sofar Sounds, a livingroom-based gig start-up.
In the US a ruling has deemed a driver an employee, not a contractor, which the BBC is claiming could mean the taxi start-up facing higher costs.
Source: BBC
Fitbit valued at $4bn in IPO
Smart tech, particularly health tech, just showed the world that it could surface some of the future's most valuable brands as Fitbit's valuation soared to $4bn after selling shared in its initial public offering. According to the Financial Times, the IPO raised $732m but it could reach $841m if underwriters Morgan Stanley, Deutsche Bank and Bank of America Merrill Lynch buy their option.
Source: Financial Times
Samsung confirms Marc Mathieu as CMO
Samsung has confirmed that it has appointed former Unilever marketer Marc Mathieu as CMO, as previously reported by Marketing. It has also announced the appointment of a new chief creative officer Jesse Coulter.
In case you missed it... two longer reads
If loving a robot is too much of a conceptual leap, start with the idea that many are already attached to one. Siri is just one indicator of how easily the idea of talking to robots, and the machines talking back, has crept into everyday life. We spoke to artificial intelligence pioneer David Levy, who believes it won't be too long until we're having sex with them.
Speaking at the 3% Conference in London last week Cindy Gallop, founder of MakeLoveNotPorn.com and the jury president of the new Glass Lion at Cannes, said: "The new creativity is female-informed, it is driving new thinking about the talent we recruit and the way we operate around the world."
If you watch one video today...
With Apple Pay coming to the UK, Marketing spoke to payments company iZettle chief strategy officer Jens Munch about how to use Apple Pay on the Apple watch. See our demo and find out why Apple may be the company to take contactless payments mainstream.