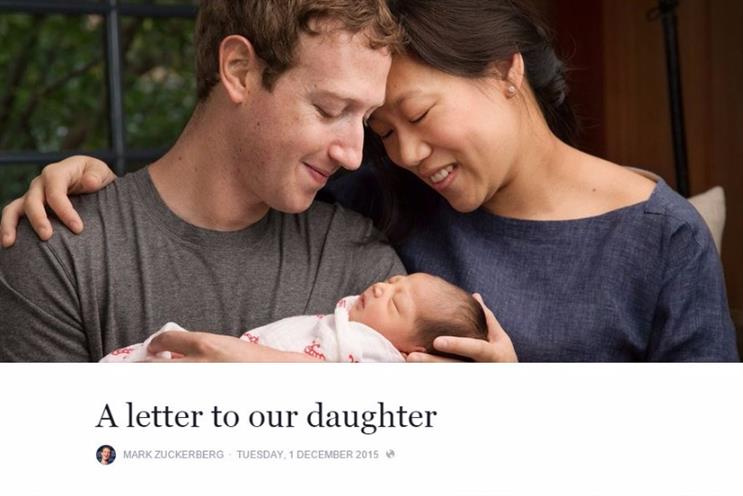 Zuckerberg pledges 99% of shares ($45bn) for philanthropy
Mark Zuckerberg and his wife Priscilla Chan this week announced the birth of their first child and celebrated by launching an initiative that will see the couple give away 99% of their Facebook shares, worth $45bn.
Zuckerberg posted an open letter to his daughter Max on Facebook, leading an emotional call for people to invest in protecting the world and investing for future generations' well being. Specifically they will focus on two aspects - advancing human potential and promoting equality.
The money will be invested under The Chan Zuckerberg Initiative.
Source: Facebook
Morrisons faces FTSE demotion as share price falls
Supermarket Morrisons is bracing itself for demotion from the FTSE 100, the list of the UK's biggest companies, after share prices fell 11% in the last month.
The decision will be made today but, according to The Guardian's analysis on Tuesday night data, Morrisons' share prices are heading towards a five year low and could see it falling out of the list.
Source: The Guardian
Almost 70% of people will shop at Aldi or Lidl this Christmas
Morrisons negative news will be contextualised by the rise of the discount supermarkets no doubt as fresh research suggests Lidl and Aldi are set for another good festive season.
The Telegraph cites IGD research that revealed 70% planned to do some Christmas grocery shopping at a discount supermarket, such as Lidl or Aldi.
It's not all bad news for the 'big four' supermarkets though, as savvy shoppers planned to visit multiple supermarkets to fulfill their Christmas grocery needs.
Source: Telegraph
In case you missed it...two longer reads
This month we looked at new economic models and how marketing fits into a future of potential postcapitalism. Read all our insights and news from the theme in one place.
Lidl's marketing and advertising director, Arnd Pickhardt, scooped the Marketers' Marketer of the Year award after being voted in overwhelmingly by elite industry players in Marketing's Power 100.
If you watch one video today...
Rather than a video, this week we're pointing you towards our new podcast. Listen to the third episode below and find out more here.