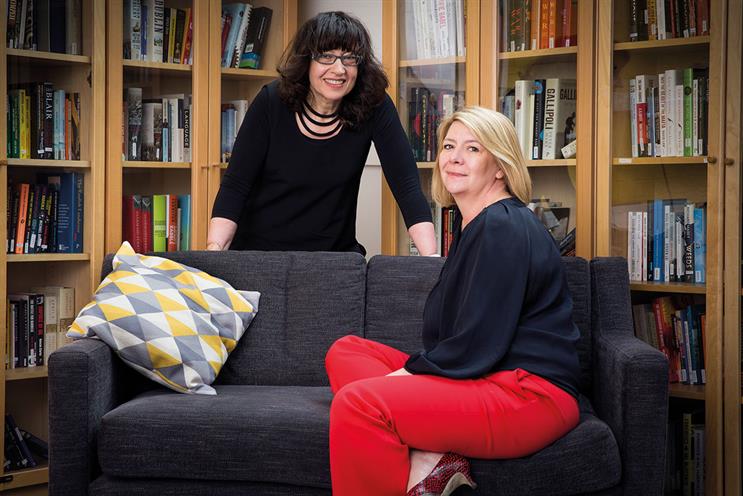 There are still not enough women in senior positions in media. Many enter the workforce with brilliant credentials and strong ambitions – safe in the knowledge that employment legislation has demolished the old concept of the glass ceiling.
Yet, with some honourable exceptions, businesses are still being run by men, judging panels are largely dominated by men and conference stages are populated by men. Look at the company you work for. Given that women are half the population, we are a long way from equality in senior management.
We don't believe there is a glass ceiling any more. There is a glass wall. Women can see through it – to the meetings that they are excluded from, the casual conversations that accelerate careers that they are not participating in, the times a boss does not consider a woman in her thirties for a promotion because she might go on maternity leave.
This is what has inspired us to write our forthcoming book The Glass Wall: Success Strategies For Women At Work, which is published by Profile Books in September.
We bring different views because one of us is at a media agency, while the other is at a media owner. So Media Week invited us to talk about our experiences.
Kathryn Jacob Change needs to happen. There's less certainty now in the media industry, careers are less linear, everything is changing rapidly. The pressure just mounts and mounts. I was in a speed-mentoring session recently and there's an idea that you need to be perfect at everything and, if you're not a board director by the time you're 26, then you've failed horribly.
Sue Unerman The fantasy that, to progress, you need to put your hand up for everything, always look perfect, always network – as an introvert, I find that impossibly discouraging. There are loads of ways to reach career success, loads of ways to develop resilience, but you don't have to be perfect.
KJ There's only a handful of women chief executives at media owners in Britain. On the agency side, there are more senior women. But the trading side does appear to be dominated by men. There is a perception that they all have nicknames and talk about golf and football.
Historically, I can remember situations when we never used to put a woman on the business at one particular media agency because they were just bait. That heritage remains and it needs to be confronted. Retaining talented women is the only way businesses are going to thrive.
SU There's a story in our book about a woman called Anna who took on a new role and felt like she was being subtly excluded by men on the team. She would get presented with decisions in meetings that she hadn't been involved in making, and it got worse. So the next time the men went to the gents to chat – in other words, to the one place in the office where she couldn't follow – she did just that. She propped open the door and refused to allow them to exclude her. Anna's action might seem extreme, but she made a joke about it and she made her point.
KJ Things have changed since I first started in the industry. Then, if you were a senior woman, you never put pictures of your children up. The expectation was that you were harder, more aggressive – effectively, a man with a lumpy jumpy and lippy. Now, people are open about having kids. But the only way you get change in an organisation is if the most senior people do it. You've got to walk your values, not just put them up on the wall. I still go to too many meetings where I am the only woman.
SU Even now, fairness in business seems to be based on fairness to a masculine norm rather than a feminine norm – especially if you're caring for kids or elderly parents.
KJ I'm surprised there hasn't been more change in the attitudes of young women today, given the higher number of female role models – Dame Carolyn McCall, for example, who recently said: "Don't defeminise the way you are, just be yourself."
SU We're not explaining to young women how to develop resilience in the right way. Recently, a female graduate raised with me the fact that she often sees women get talked over in meetings. I gave her four techniques to try from our book because fairness is important but that's not enough. You need to have strategies up your sleeve.
So, depending on your personality and the type of meeting, you can: sit next to the most important person in the meeting – that makes you much more visible; you can rehearse what you're going to say the night before; you can go up to the person running a regular meeting beforehand and ask for their help in making your voice heard; or you can confront it with banter or humour in the meeting.
KJ I was once in a meeting like this. I said: "OMG, have I just woken up in the 70s? Have we missed decades of women having really senior jobs in this industry?" Have your jokes in your handbag ready to go. As Facebook's Sheryl Sandberg says, never push your chair back, never look like a subordinate.
Sue Unerman is the chief strategy officer at MediaCom UK; Kathryn Jacob is the chief executive of Pearl & Dean