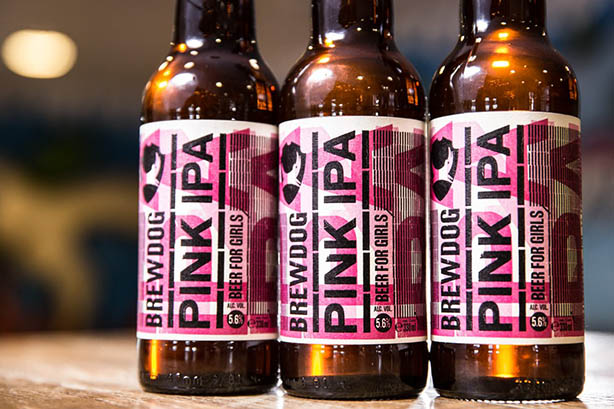 The brand still wants to use parody, but rather than tackle social issues, it wants to focus its "irreverent" marketing campaigns on what it does best – beer.
The brewer has admitted that recent campaigns have been "ill advised" and "inappropriate", prompting the change in direction.
In a private blog to BrewDog's investors – known as the Equity for Punks Forum – managing director James Watts admitted it had got PR launches wrong this year and would be reviewing how it works with agencies.
BrewDog campaigns that have caused controversy include a launching parody porn website called BeerPorn to deliver video content, and its attempts to satirise gender stereotypes by launching a Pink IPA, 'Because women only like pink and glitter'.
We've created a beer for girls. And it's pink. Because women only like pink and glitter, right?

??‍?? #Sarcasm

Lets show that enough is enough with stereotypes. pic.twitter.com/g1zonXFInm

— BrewDog (@BrewDog) March 6, 2018
"As a company we have not been quick to realise that we have now built the platform we need to engage and excite people about craft beer and that we no longer need to try and wrap things up in crazy, overly provocative stunts to make our voice heard," Watts said.
"This year especially we have had a few PR launches that in hindsight were ill-advised, unnecessary and were wrapped up in shock tactics when shock tactics were completely not appropriate.
"We are now a bigger employer and a bigger community that we used to be, and with that comes an increased responsibility."
BrewDog has been working with PR firm Manifest – taking over from The Romans in early 2017 – in the UK, and a host of creative agencies on a project basis. Recently this has included Robot Food and B&B, for design and packaging, Isobel, for out of home advertising, and Amplify for brand experience.
BrewDog told PRWeek the change in direction hasn't materialised into an agency review.
However, in his blog Watts said "there have been too many agencies and people involved" in recent launches and it is "going to review with a view to making some changes in the creative agencies" the company works with.
BrewDog declined to provide further details on what changes it had planned beyond the blog.
The company is also establishing an internal "sounding board" that comprises of investors, known as "equity punks", and staff, "so that all new concepts and launches go through an internal and community filter rather than an external partner filter".
"We are now just over 11 years (or 77 dog years) old as a little business," Watts continued.
"There have been highs and lows, some huge hits and some epic misses, successes and failures, plus killer beers and a few we would rather have not brewed.
"We are going to continue to wearing our heart on our sleeve, continue our mission to share our passion for craft beer, continue being irreverent and candid and continue trying to be the best employer we possibly can.
"We know there are areas we can get better as we grow and evolve as a business and this note shows our steadfast commitment to do just that."
Watts concluded by promising BrewDog would focus more on beer, its people and the things that brand believes in.
After taking over the Brewdog account, agency Manifest agreed an 'amicable' split from Scottish brewer Innis & Gunn, over a potential conflict of interest.
A version of this article was first published by PRWeek.