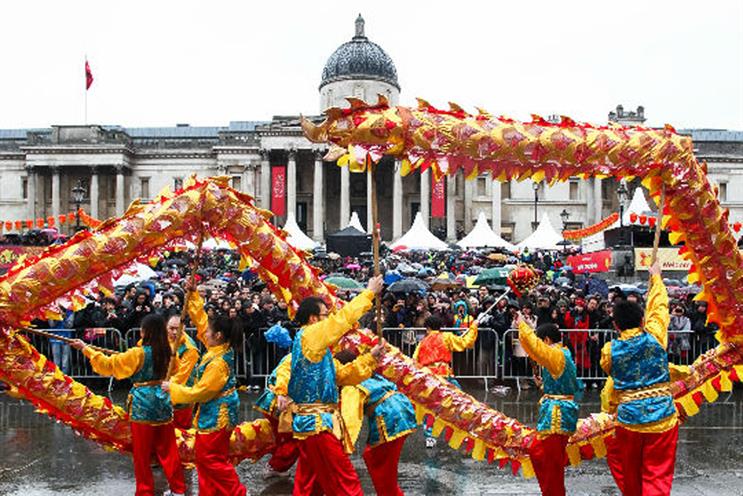 "Brexit was the catalyst for many more companies to activate plans to target Chinese markets both in the UK and the mainland," noted Rocky Chi, planning manager of Emerging Communication.
Overall, there has been a 25% increase in Chinese tourist traffic mainly due to the falling sterling. In fact, bookings for flights to the UK from China in January this year were 81% up from January 2016. UK brands have responded to the New Year opportunity by creating the largest amount of Chinese-focused marketing activity seen to date, added Chi.
"There was an upward trend in China-centred communication anyway, but the decision to leave Europe has accelerated that trend," she said.
Tourist traffic aside, according to the UK immigration report, the Chinese community in the UK is around 400,000 and is continuously growing. Of this community, around four in ten are employed and a third (32%) are students.
It's a valuable target for brands, said Chi, as the Chinese have been buying UK properties en masse, and the average disposable spend for Chinese students in the UK is £1,500 per month.
Chinese New Year brand activations:
Kellogg's Corn Flakes
The cereal has given its rooster, Cornelius, a Chinese Near Year makeover in honour of the year of the Rooster. The limited edition boxes can be won in a competition inviting fans to design their own zhezhi (Chinese origami) themed rooster and sharing it on social media with the hashtag #myperfectbowl.
Michael Kors
The luxury brand launched a Year of the Rooster collection accompanied with in-store events and promptions. They also sent a 'red packet' to Chinese consumers in line with the traditional method of sending good wishes during Chinese New Year.
Armani Beauty
Along with other beauty brands, including Estée Lauder and Guerlain, Armani Beauty issued a limited edition compact for the year of the rooster.
Mankind
The website has launched a special promotion in line with Chinese New Year.