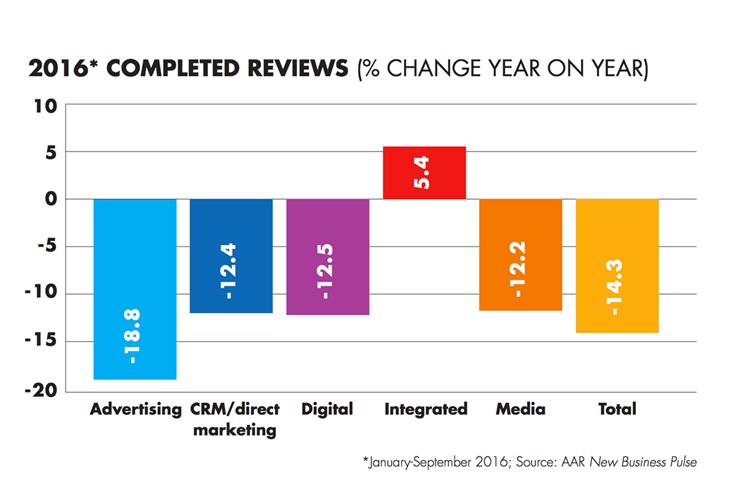 According to AAR's New Business Pulse, there was a 26.6% fall in the number of pitch results announced between July and September compared with the same period in 2015, with advertising reviews down 30.3%.
AAR said the steepening of the decline in the number of completed pitches in the third quarter could not solely be put down to the vote. Instead, it should be seen as indicative of the effect uncertainty has on the market.
Across the first three quarters of the year, traditional advertising reviews fell most markedly, with new-business appointments down almost 19% compared with the same period in 2015. Of these pitches, ten were for accounts worth more than £20m, including Aldi, Asda, Marks & Spencer, Morrisons and Sainsbury's.
This compares with 11 accounts worth £20m-plus being awarded in the first nine months of last year. Of the ten big advertising appointments, seven were made as a result of open reviews.
M&S followed a single holding company process (WPP), Asda was awarded without a pitch and Paddy Power Betfair was a consolidation following a merger.
The number of completed pitches fell 12.4% in CRM and direct marketing and 12.5% in digital in the January/September period.
Meanwhile, the media pitching bonanza of 2015 appears to have slowed down, with a 12.2% fall in appointments in the first nine months of 2016. The only increase was in the number of appointments of integrated accounts – up 5.4%.
However, AAR says the majority of completed integrated pitches carried modest budgets. AAR chief executive Kerry Glazer said the industry was on track for a significant decline in completed pitches in 2016.
She said: "It seems likely that, by year end, the new-business market will show a double-digit decrease on 2015, which is likely to be a result of economic uncertainty and agencies concentrating their efforts on their existing client relationships."