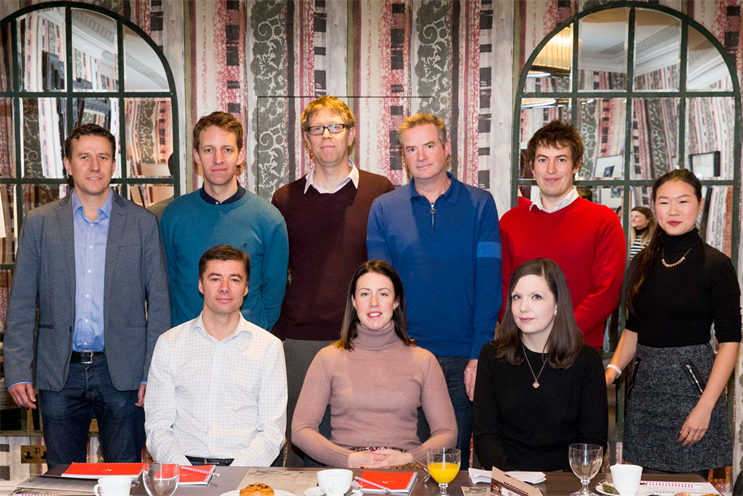 Bridging the gap
It's 2017. Online shopping is everyday; consumer demands are high. They want exceptional service as well as the best products. Retailers have to do both, said Erin Roy, head of media and digital marketing at Marks & Spencer, but managing this relationship means having a consistent message and experience both online and in store.
Roy pointed out that the in store experience can benefit customers in ways that can't be matched online: "M&S is completely built on exceptional face-to-face customer service," she said. But, she explained, the Sparks loyalty card scheme now means that "customers can genuinely connect in store and online", through personal loyalty offers.
Evans Cycles' marketing director, James Backhouse, added that people are "prepared to pay a few more pounds to have that personal experience and good conversation" in a store. His customers need to try before they buy, and get one-to-one advice. So introducing a 'live chat' function online helped Evans Cycles increase their conversion rates and also offer their staff another channel through which to interact with customers.
Connecting digitally
The group agreed the demand for bricks and mortar stores shows no signs of slowing, but retailers can't afford to ignore the trend towards e-commerce as a supplementation – as Mindshare UK's managing director, Joanna Lyall, said consumers "want the validation of what other people think," – which they can get in store – but also go online to reassure themselves with other customer reviews and double check they are getting the best price deal.
Yann Riviere, regional e-commerce director of Europe/Australasia at General Mills pointed out that online searches can drive people to physical stores, but this also works the other way around: "The best brands are digitising stores. It's amazing to see how brands such as Lego are using digital as an enabler of a greater in store experience," he said. He added that FMCG marketers tend to prioritise mass media and TV, but as the use of mobile increases, instead should strive to offer more digital relevance.
Lyall agreed and said that here in the UK, brands should use social platforms to connect with consumers on mobile. A social feed, such as Instagram, helps people understand a retailer's current offers, but also: "You feel more connected to that brand. It's bringing a human connection to something that can feel vast and inhuman."
Backhouse asked whether more beautiful design of (often "eye-wateringly ugly") e-commerce sites could dramatically improve the online shopping experience. But Bertie Stephens, co-founder and CEO of online marketplace, flubit, suggested this is not a priority for consumers: "The majority of people are looking at a title, image and buy-button on their phone. You can have a wonderful desktop experience but everyone has resigned themselves to the small mobile screen."
Learning from East and West
So is mobile the future of shopping?
China's use of mobile is ahead of the game. Campaign's Emily Tan said that the Chinese search, scan and pay for products through the WeChat mobile app, which is now part of their shopping culture: "It's a very integrated online-offline experience."
David Walsh, Mindshare UK's chief business officer, pointed out that our ageing society – still struggling with self checkouts and enjoying human interaction – is some way off this level of integration. But he sees the future as multichannel, with emerging technologies such as AI and AR becoming more prominent: "Collecting and managing data is one of the pillars that you need to put in place if you're going to take full advantage of it. Converging and validating all the data is one of the big challenges."
Fraser McKevitt, head of retail and consumer insight at Kantar Worldpanel, agreed and said emerging technologies can benefit both retailer and consumer. "This is where the whole concept of Amazon Go is interesting," he said. "Getting rid of the checkout and staff is in both the retail and the consumer agenda. If the tech lives up to that (there are varying reports from the States) it could take off quickly."
As Stephens reminded us, consumers go online to look for the best deal. For flubit "price factor is the only key message" from customers – they ask one question: "Is it cheaper?" But the group agreed that marketers and retailers should focus on improving the experience of online shopping to bridge the gap between online and offline shopping: some people will always pay more for a good experience – that's why both Ryanair and British Airways are still in business, Backhouse pointed out.
There is room for both a good experience and a quality product, said Erin Roy. Ideally, retailers will deliver on all elements. But, for real progress to happen, retailers have to "go for it, disrupt and own it".
Learn more about the Future of Retail
Around the table
Emily Tan, global technology editor, Campaign
Joanna Lyall, managing director, Mindshare UK
David Walsh, chief business officer, Mindshare UK
Jeremy Pounder, futures director, Mindshare UK
Erin Roy, head of media and digital marketing, Marks & Spencer
James Backhouse, marketing director, Evans Cycles
Bertie Stephens, co-founder, CEO, flubit
Yann Riviere, regional e-commerce director Europe/Australasia, General Mills
Fraser McKevitt, head of retail and consumer insight, Kantar Worldpanel