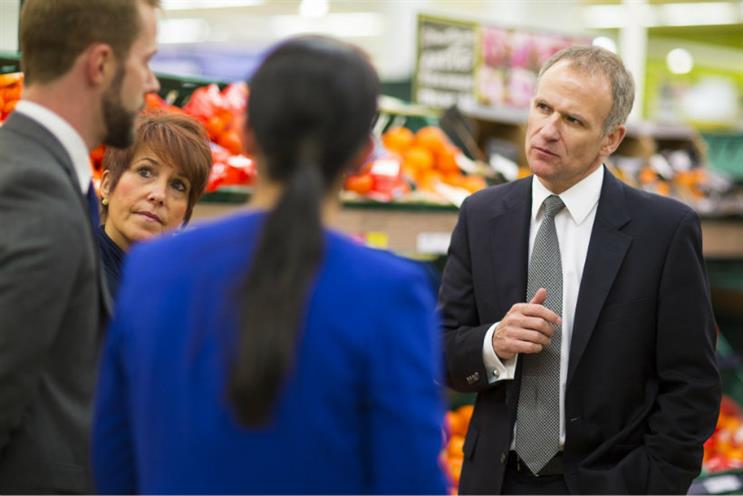 Amazon last month announced a deal whereby Morrisons will supply groceries to its customers, finally expanding into fresh food in the UK.
Asked by Marketing at the Marketing Society's annual lecture whether Amazon was a threat, Lewis batted off the suggestion.
"If as a marketer you sit there fearing the idea that somebody might enter your market, you're halfway done," he said.
Tesco accounts for 50% of the UK's online grocery shopping market, Lewis claimed, something the supermarket saw as a "source of strength". Marketing has, as yet, been unable to verify that figure.
"Competition will make us stronger," Lewis added. "Bring it on."
Lewis told host Raymond Snoddy that Amazon had "not spoken to me" about a possible tie-up ahead of the Morrisons deal.
There's still life in big stores
During an earlier part of his speech, Lewis said the "bigger challenge" for the supermarket was to convince consumers that making a trip to the large stores was worth it.
Asked by Marketing if this was where he saw growth, Lewis clarified: "We still see growth in our convenience and Express stores, and in our online offering."
But he added that in 2014, when the business had declined by more than 5%, the decline in the larger stores was worse than the overall business at around 8%. But since he had taken the reins at Tesco, the supermarket had stemmed the decline at larger stores faster than in the wider business. In short, it was persuading consumers back to its bigger outlets.
During the company's interim results in October, Lewis stated the like-for-like decline in the second quarter of 2015 at larger stores had improved to 1.1%.
"On a relative basis, our improvement in larger stores has been better than the corporate average," he told Marketing. "We've seen an improvement in the competitiveness of the offering across everything - but the ones that are growing are Express and online."
According to recent figures from Kantar, Tesco managed to halve its sales decline year on year in the 12 weeks to 28 February.
Digital spend up by factor of five
Lewis said Tesco had upped its digital spend by "a factor of five" over Christmas, compared with Christmas 2014, though he didn't say from what. He said the spend on digital had been "significant".
Asked by Snoddy whether he was worried by ad fraud or ad-blocking, he replied: "There's a challenge for all [marketers] to be diligent about what it is [they are] spending and returning on it.
"My experience of what we've done, particularly over Christmas and since, is that when we get it right - the engagement on mobile or Facebook or wherever - if what you receive as a customer is helpful and wonderfully targeted, actually the effectiveness of the spend is really quite encouraging."
Unlike other British business figures, Lewis declined to comment on Brexit. Though "asked a lot", he would only say: "What we've said for both sides is [...] you tell us what your policies are, and we'll tell you the impact on our industry."