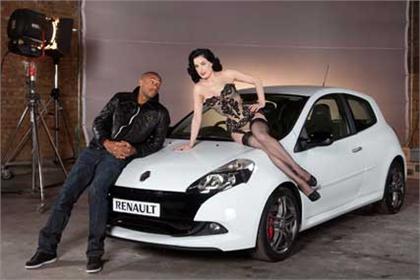 There's a pungent whiff of garlic about Renault's advertising these days, although Phil York, the car-maker's UK marketing chief, might prefer to express the Gallic charm of its current creative work in less stereotypical fashion.
The common factor linking the high-profile campaigns for both the Clio and the Megane hatchback is that they're reflective of French joie de vivre, he says. And he claims both are cars of choice for those who love the "useful functionality" of French auto engineering - and who enjoy a glass of wine over lunch.
It's certainly true that Renault is reconnecting its UK advertising with French culture in a way not seen since the Clio-loving Papa and Nicole made their debut in the 80s. And certainly not since the one-time France and Arsenal footballer Thierry Henry last fronted a "va va voom" commercial five years ago.
Significantly, Henry is back - starring alongside the likes of Dita Von Teese and David Bowie - in a new "va va voom" spot through Publicis London.
Then there's the Megane Experiment, a true piece of cinema verite, in which the Riviera-dwelling Claude - described as "a French Borat with heart" - tries convincing the dour townsfolk of Gisburn in Lancashire that test-driving a Megane will help to raise their "joie" levels.
The "back to the roots" strategy was simply a response to the British public's view of Renault. "When we talk to customers and dealers - and we do it a lot - we find they still strongly associate us with being French," York explains. "No matter that Papa and Nicole and the first 'va va voom' advertising all appeared some years ago.
"What we're saying is that you can see the French people's passion for life in the cars they drive."
It may be no accident that the breezy self-confident style of the latest advertising mirrors a little of what's been happening at Renault UK, whose business performance has been moving up through the gears after what York acknowledges to have been a tough trading period.
The ending of the Government's scrappage scheme, troubling economic indicators and their effect on consumer confidence had seen the company's UK market share slump by almost a quarter.
York suggests there were other factors contributing to Renault's plight besides a brutal economic climate. A deterioration in the exchange rate, the decision to pull out of unprofitable areas such as Motability and the need to clear the decks by clearing out old stock all played their part, he explains.
The result was a cathartic period during which the Renault range was reviewed to reduce its complexity in consumers' minds and limited editions were given renewed emphasis. Meanwhile, the need for most cost-conscious buyers to arrange finance in order to purchase a new car was reflected in a new emphasis on affordable monthly repayments rather then price discounts. It's a testament to the success of Renault UK's so-called Destination 5 plan, launched two years ago, that market share has since risen to the psychologically important 5 per cent.
Such reforms could hardly be more timely as Renault readies itself to become the first volume producer of electric cars - and what seems likely to be a significant hike in UK adspend, recorded at £30 million in 2010 by Nielsen. York won't discuss figures but says: "Our spending will always be in line with our strategy."
That strategy will see four electric models on sale by the end of next year. They include the Kangoo van range (for which demand is already outstripping supply, according to York), the high-volume Zoe, an electronic equivalent of the Clio, the Fluence, a family sedan, and a two-seater car called the Twizy.
"We're absolutely convinced electric vehicles are the way ahead," York says. "What's more, we'll have a broad enough range to really establish ourselves in this market."
With electric vehicles slow to shed their "souped-up milkfloat" reputation and consumer concerns about where and how often they need to be recharged, York agrees that the marketing message will need to be one of reassurance. But he believes any apprehension will be quickly overcome as people get into the habit of putting their cars on charge overnight just as they do their mobile phones.
What's not in doubt is that a big-time move into electric vehicles will accelerate the increasingly digital-centric nature of Renault's advertising. "It's not just because of the cost of TV but the fact that between 70 and 80 per cent of consumers now research their car purchase online before they go to a dealer," York points out. "So we need to be in that space."
He sees the multi-faceted Megane Experiment campaign almost as a precursor of how future marketing communication might work. What started out as a way of providing standout for the Megane in a very crowded compact family hatchback market dominated by the Volkswagen Golf and Ford Focus ended up as a real 360-degree initiative involving Renault's creative, media and PR specialists - the documentary won a lot of press coverage - as well as its own internal team.
"There are some 25 brands in this market, which means you have to shout very loudly and spend a lot of money," York says. "We had to look at other ways of achieving cut-through. Out of that came the idea that you could have more fun with a Megane."
To date, the Megane Experiment website has attracted some 500,000 visitors - a similar viewing figure to the latest Clio commercial on YouTube - and the 11-minute documentary about it has been adapted for above-the-line use. "You learn as you go along," York adds.
Whether all this means Renault's UK advertising will no longer be a contrasting combination of excellent UK work and less-than- stunning international "catch-all" campaigns remains to be seen.
"We're seeing what improvements we can make to our international advertising," York says diplomatically. "Edgy work for a specific market will always have to be justified."
THE YORK LOWDOWN
- In the beginning
A passionate petrolhead,Phil York reckons he inherited his passion for cars from his dad. One of his earliest childhood memories is of them driving to Hungary in a Renault 16. "It was quite an adventure. I only ever wanted to work in the motor industry," he says.
Having read French and German at Bath University, his route in was via a small vehicle leasing company where he worked in customer services and got his first experience of business-to-business marketing.
- The right specifications
After a year with Fiat working as a product manager on brands that included the Punto, Renault came calling in 1998. The company was looking for a French-speaking product manager for the new Clio 2 and earmarked York for the job.
- Motoring around Europe
Since then, he has accumulated management experience in a number of the car-maker's European markets. He spent two years at its French headquarters as the international product manager for the Megane before taking charge of marketing for Serbia and Bosnia.
- Homeward bound
In 2006, his role was broadened to encompass the eight countries of Renault's Adriatic region. Among them is Slovenia, where Renault makes the Twingo and has a market share of more than 20 per cent.
He returned to the UK as the marketing director in July 2009.