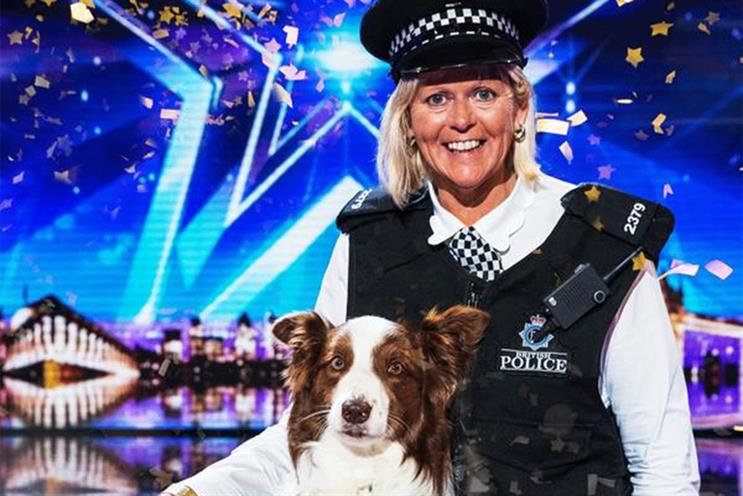 The variety talent show, created by Simon Cowell, is so far the only programme on British TV to attract more than 11 million viewers in 2015.
Between 7.30pm and 10pm the show averaged 11.7 million viewers, a 48 per cent viewing share. At its peak – between 8:55pm and 9pm – the programme was watched by 13.4 million viewers, a 52 per cent share of audience.
Jem Lloyd-Williams, the executive director for product and innovation at Vizeum, said: "The numbers suggest BGT remains close to the nation's heart, with average audiences up by 8 per cent and a 50 per cent plus share at times.
"Has the show evolved to keep delivering the 'it'? It's a moot point if it's still killing it on the ratings. With more audience participation on the wild cards, it does feel more inclusive as a show. However, while I love seeing a dog have its day, you wonder if the standard of entrants can stay at such a – ahem – high level."
This year's contest was won by Jules O'Dwyer and her performing dog Matisse.
Britain's Got Talent's highest ever ratings came in 2009, when a peak of 19.2 million watched dance group Diversity defeat Susan Boyle in the final, with 17.3 million tuning on average. Last year's final attracted an audience low of 11.1 million.
Elaine Bedell, ITV's director of entertainment and comedy, said: "It has been a wonderfully entertaining series from beginning to end.
"Simon, the judges, Ant and Dec, and the talented production teams at Syco and Thames have triumphed again, and made Britain's Got Talent the most talked about, and most watched, television show of the year."