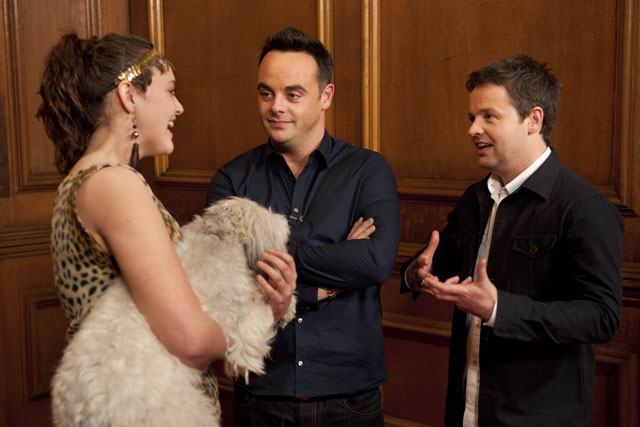 According to unofficial overnight figures 'Britain's Got Talent' had an average audience of 11.38 million viewers between 7.30pm and 10pm on Saturday night, a 46.4% share. An additional average watched the show on ITV1 +1.
If ITV1 +1 is included 'Britain's Got Talent' peaked at 14.5 million, the highest audience of 2012 so far, beating a 'Coronation Street' episode from January into second place, and ahead of last year's 14 million (13.5 million without +1).
'Britain's Got Talent' is presented by Ant and Dec and its judges include Simon Cowell, Amanda Holden, Alesha Dixon and David Walliams. The show is sponsored by Virgin Media.
Over the course of the last few weeks rivalry between 'The Voice' and 'Britain's Got Talent' has mirrored the autumn competition between the BBC's 'Strictly Come Dancing' and ITV's 'The X Factor'.
'The Voice' won a number of battles in the middle of the series but in the final outing of the war on Saturday night the BBC singing show could only manage a peak audience of 6.40 million viewers across BBC One and BBC One HD.
Between 6.15pm and 7.45pm 'The Voice' had an average audience of 5.64 million viewers on BBC One and BBC One HD, a 29.4% share.
Peter Fincham, director of television, ITV, said: "Britain's Got Talent 2012 has been an amazing series, with an incredibly high calibre of acts, culminating in a really special final. We are delighted that viewers tuned-in in their millions to watch Ashleigh and Pudsey be crowned this year's winner."