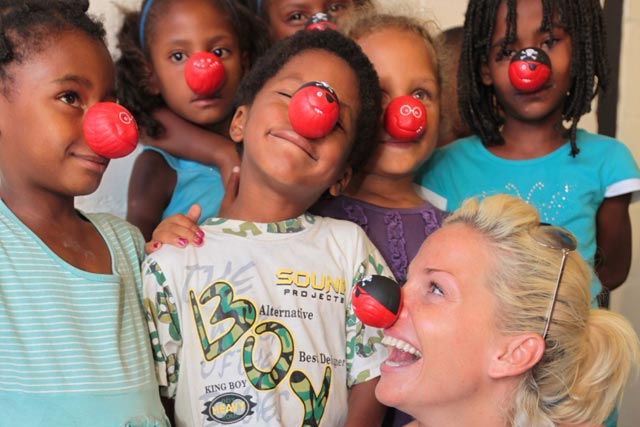 Comedians Dara O'Brien, Jack Whitehall and Jon Richardson will perform while on a BA plane at 35,000 feet on 12 March.
BA is giving away 75 tickets for the gig, which fans can enter by texting "Fly1" to 70300.
The "Flying Start" partnership between BA and Comic Relief began in June last year and has raised more than half a million pounds.
The airline hopes to break the Guinness World Record for the "Highest stand-up comedy gig in the world".
Other projects being run as part of "Flying Start" included the mothers2mothers mentoring programme in Cape Town, recently visited by Girls Aloud singer Sarah Harding, which offers support for HIV-positive pregnant women and new mothers.
Keith Williams, chief executive of British Airways, said: "Having recently seen first hand where the money goes, I am more enthusiastic than ever about 'Flying Start'.
"The comedy gig in the sky is just one of several fundraising initiatives we're involved in – and we hope it raises smiles and money at the same time."
Last month, Comic Relief brought in external PR support to promote the help it gives to UK-based diaspora charities aimed at tackling poverty and injustice in Africa.
This year, Red Nose Day is on Friday 18 March.