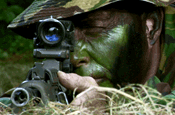 He announced the decision to leave on his website blog, stating that "now is the right time to move on".

Bainbridge took the role of marketing director in May 1999, and implemented a programme to overhaul the Army's public-facing business plan.

He played a major part in introducing 'Camouflage', a campaign that targets possible army candidates before they leave high school at the age of 16, and co-ordinated the rebranding project following the merger of regular and territorial army recruiting processes.

Bainbridge admitted that the decision to resign was a difficult one, saying: "For the best part of a decade I have enjoyed working for the Army...This is not a decision that I have taken lightly."

He will now take a month off before announcing his new career path in September.