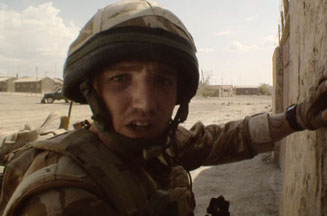 The campaign, Start Thinking Soldier, launches tonight and is created by Publicis and Skive. The spot is the first in a series of four TV ads that will roll out consecutively over a four-month period: each unlocking a corresponding online mission.
Each ad brings to life one of four key areas of Army expertise including teamwork, decision making, leadership and fitness and mental sharpness. At the end of each film, the viewer is presented with a decision-making dilemma and is asked 'What would you do?' from a choice of three options.
The first mission features an explosives factory in the desert. Viewers are given the options: to burst in through the doors, to carry out an air strike or to blow a hole in the wall. Each commercial concludes with a voice-over stating: 'Show us your Army skills....Start Thinking Soldier. Online.'
Once online, participants pick one of the options and are given immediate feedback on their decision. From there it is possible to take part in a whole range of online challenges, reminiscent of the video game Doom, that test a variety of skills including observation, problem solving, intelligence, memory, navigation, and awareness - all resulting in detailed feedback on your own performance and natural skills and weaknesses.
As part of the campaign, participants will also be invited to Start Thinking Soldier events across the country this summer where they can meet soldiers and try out their skills for real.
Lieutenant Colonel Eilean Cunningham of the Army's Recruiting Group National Headquarters, said: 'Start Thinking Soldier reflects our Army training which focuses on the individual, bringing people's strengths to the fore and providing world class training to help to develop their potential.'