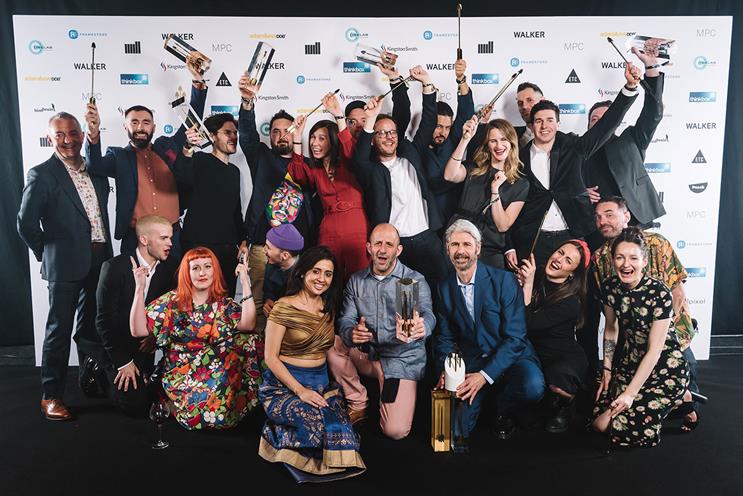 Adam & Eve/DDB was crowned Agency of the Year at the British Arrows for the third year running, while Nike's "Nothing beats a Londoner" was named Commercial of the Year.
Somesuch took the Production Company of the Year title for the second year at the awards ceremony on Wednesday night in Battersea, London. The Agency and Production Company of the Year prizes are awarded based on the number of gold, silver and bronze wins the companies have received across the show.
"Nothing beats a Londoner", created by Wieden & Kennedy London, swept the 2019 British Arrows with 14 prizes – six gold Arrows, six gold Crafts and two silver Crafts. Along with Commercial of the Year, it received the honour of Best Crafted Commercial.
Riff Raff's Megaforce, who directed Nike's film, won the Frank Budgen Award for Best Director. Wieden & Kennedy's Tom Bender, Tom Corcoran, Ryan Fisher, Mark Shanley and Paddy Treacy won in the Writing category for their work on "Nothing beats a Londoner".
Nike was also named Advertiser of Excellence for its continued delivery of inspiring advertising worldwide.
Other big winners from the night were Essity's "Viva la vulva", created by Abbott Mead Vickers BBDO and directed by Kim Gehrig through Somesuch, and John Lewis & Partners' last Christmas ad starring Elton John, "The boy and the piano", created by Adam & Eve/DDB and directed by Seb Edwards through Academy. Each received three gold Arrows, two gold Crafts and one silver Arrow.
Academy's Billy Boyd Cape was named Best New Director for his work on Pride in London's "Somewhere over the rainbow" by BMB.