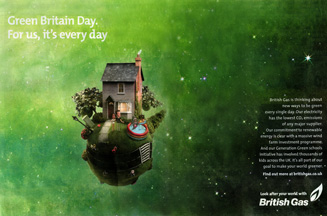 The advertising ran in national press today, a day before EDF's event, which takes place on Friday. It states: 'British Gas is thinking about new ways to be green every single day.'
Elsewhere, Npower will tomorrow roll out a tactical press ad for its educational programme Climate Cops, featuring the strapline 'Every day's a green day for Climate Cops.'
Earlier this month, EDF announced the first 'Green Britain Day'. It is asking people, including schools around Britain, to 'do something green for the team'. It teamed up with gold-winning Olympian Victoria Pendleton to promote the initiative.
EDF said that the annual event, Green Britain Day, is one example of the long term commitment EDF Energy has made to sustainability and to the environment.
EDF is a sustainability partner of the London 2012 Olympic and Paralympic Games.
Chris Arnold's Blog: French EDF hijacks British flag and uses Ecotricity's idea for Green Britain Day