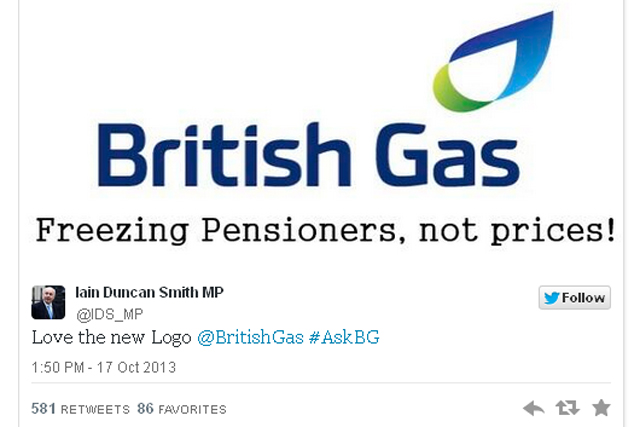 The #AskBG question and answer session came after British Gas announced plans to raise prices by 9.2%. Bert Pijls, British Gas's customer services director, fielded the questions on Twitter, which amounted to 21,400 tweets, the majority of which were negative.
Grant said: "They clearly wanted to show they were listening and to answer people's questions but it was very misjudged because they were not able to make any substantive changes to the main issue of the price rise.
"Unless you are prepared to not just listen but actually act on what you hear then there is not really much point in asking people's opinions on stuff because you are just going to enrage them if you are not able to do anything about it."
Grant conceded the campaign was "well meaning" and pointed to some of the negative tweets the British Gas official Twitter account retweeted, including one from a customer who asked how people were expected to choose between heating or eating.
#AskBG @BritishGas I've been a loyal customer for a few years. How will you feel when pensioners die from choosing to eat instead of heat???

— robb (@robbalaar) October 17, 2013
The two most retweeted tweets were both from parody accounts with large followings that jumped on the back of the backlash.
Dear British Gas, is it cheaper for one to burn £20 notes than put the heating on this Winter? #AskBG

— Prince Charles (@Charles_HRH) October 17, 2013
Love the new Logo @BritishGas #AskBG pic.twitter.com/x9q1c2i1UV

— Iain Duncan Smith MP (@IDS_MP) October 17, 2013
Tweets peaked at 12.54pm, with around 160 in just a minute, before the Q&A session that was scheduled for 1pm had even begun.
Vikki Morgan, head of community at TMW, believes British Gas was right to engage with customers about the price hike, but had not sufficiently prepared to react to the inevitable uproar.
Morgan said: "Silence is never the best policy but good preparation is what will save everyone. Most of prepping for social media crisis management is using traditional techniques used for years but just practicing it at speed and making sure you have the right people in the room to make quick decisions
"When it is this kind of level of price increase when you know everyone is going to have an opinion it might not have been the best idea to create this place for people to talk to you on the actual day".
Twitter users also jumped on the fact British Gas is currently advertising a job for a social media senior manager.
British Gas tweeted out a statement once the Q&A session had come to end, reassuring customers it had not made the decision to raise prices "lightly".
#AskBG pic.twitter.com/J5z93NzkNd

— British Gas (@BritishGas) October 17, 2013