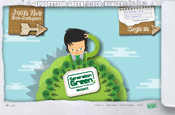 The game, http://www.generationgreen.co.uk/games/eco-rangers, features Professor Green and the Eco-rangers and allows children to customise their own characters and take on evil Baron Fossilosis over five levels of gaming. The application was developed by LBi.

All of the levels are based around environmental concerns, and aim to inform children about what to do to make a difference in the real world.

TV and online advertising will drive traffic to the site.