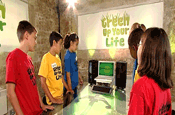 Starting this autumn, Green Up Your Life will air as a series of ten five-minute shows which will feature children accepting challenges related to the environment, such as recycling and water saving.

British Gas will use the programme to support its Generation Green initiative, a schools and community programme aimed at increasing environmental awareness among pupils and parents.

Green Up Your Life, which is produced by Initial and will feature teams of children competing to be crowned champion "eco ranger", will be supported by sponsorship idents created by CHI & Partners, and will feature online content on citv.co.uk, itv.com and popcorn.co.uk.

A Generation Green game has also been developed to run on the websites.

The deal was negotiated by ITV's integrated planning team with British Gas' media agency, Carat.

The show is "the result of an effective partnership created from ITV's shared mission with British Gas to engage and entertain kids about important green issues", ITV's planning controller, Ben Louis, said.

Gearóid Lane, the managing director of British Gas' new energy division, said the company aims to back the Generation Green initiative, which rewards consumers with green prizes, as a long-running programme.

He said: "We expect that Green Up Your Life will help turn this into a movement."