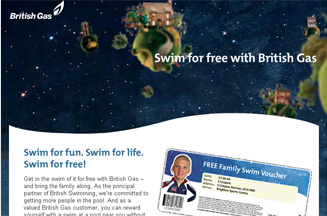 Customers can download and print 'free family swim' vouchers from British Gas microsite www.britishgasswimming.co.uk. The campaign will be promoted through TV and online ads.
The website was developed by branding and digital agency Rufus Leonard.
In March, British Gas announced a £15m sponsorship with British Swimming.
The energy supplier said the investment will be split evenly between elite athletes and grass roots development in a bid to produce a strong swimming team for the London 2012 Olympics.