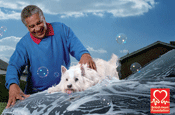 Manning Gottlieb OMD has held the business for longer than a decade, during which time the BHF has called several creative pitches while remaining loyal to its media agency. However, the charity has now appointed the AAR to run a pitch for the account.
Agency sources said "six or seven" agencies have been invited to chemistry meetings with BHF management, with the meetings likely to commence next week.
News of the media review comes on the back of a process started by the BHF, also through the AAR, to find a creative agency to help it build a membership loyalty scheme. The winning agency will also handle its advertising.
In January, the BHF hired the digital agency Avenue A|Razorfish to work on an online brief targeting 11- to 13-year-olds that warned of the dangers of junk food.
The BHF also ran St Valentine's Day activity on Facebook.