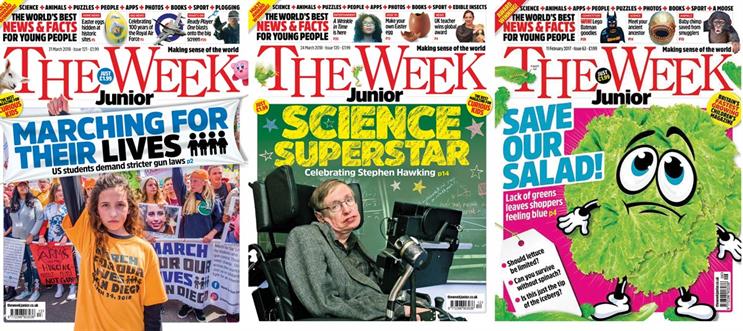 Winners
Gold
---
The Week Junior, Dennis Publishing
The Week Junior, launched in 2015 and produced by Dennis Publishing, aims to feed children's natural curiosity and empower them to express their own views and ideas.
It faced a number of challenges, including how to inform young people about current affairs in a time of fake news, political turmoil and terrorist atrocities and how to market The Week Junior to parents and encourage them to trial it for their children.
Content-wise, the publication spoke directly to its readers, with no talking down, spoon-feeding or over-simplification.
Marketing efforts were focused on parents, positioning the title as a safe and trusted entry point to understanding the world, with social media used to raise brand awareness by regularly sharing information, pictures and articles.
The publication also hosted workshops at family-friendly festivals and the title was sampled in places like airports, museums and exhibitions.
Prior to launch, the magazine sold 3,000 subscriptions without any consumers seeing a copy.
Within three months of launching, there were 10,000 subscribers. Figures for the end of year one were achieved ahead of time and were more than double the target.
Reader response has been overwhelmingly positive, with comments praising the publication for being "intelligent, full of interest and fascination" and telling 'the news exactly as it is, making it palatable but not glossing over important details".
Silver
---

i
i
Bronze
---
The New European
Archant
Shortlist
BBC Countryfile magazine, Immediate Media
NME Downsized, Time Inc UK
BBC Gardeners' World magazine, Immediate Media
Music Week, Future