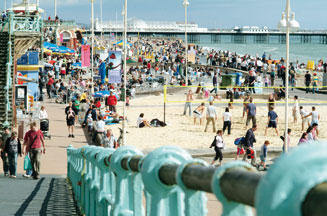 UK seaside towns are getting a much-needed makeover in an attempt to attract cash-strapped consumers. Resorts including Blackpool, Southend-on-Sea and Brighton have taken on the tricky job of challenging people's perceptions, following the start of a number of multimillion-pound regeneration projects.
Earlier this month, VisitBlackpool embraced digital media by launching a YouTube video in an attempt to shed its downmarket image in favour of a more sophisticated and glamorous feel. 'Blackpool Je t'Aime la Tour' shows a French woman and her English boyfriend enjoying the attractions of Blackpool before ordering a Lancashire hotpot in a café. It coincides with a major redevelopment of the town, including hotel, shop and restaurant launches.
Amanda Smyth, head of marketing at VisitEngland, says it is a good year for such resorts to reposition themselves, capitalising on the impact that the economic downturn is having on people's choice of holiday destination.
Suzanne Livingston, senior strategist at branding agency Wolff Olins, agrees. She believes resorts have a big oppor­tunity to attract consumers at a time when they are looking to spend less and holiday at home, and that, culturally, it is tapping into a zeitgeist. 'Britishness has also been revived through things like cuisine and art,' she adds.
That said, the image of Britain's resorts is seen by some as outdated. 'We want to get the right perception and not be stuck in a bucket-and-spade time warp,' says Smyth, who cites Blackpool's video as a smart move. 'Blackpool has aspiration. UK residents are interested in it and want to find out why it has got the confidence to promote itself to French visitors,' she says.
Southend-on-Sea is another town eager to create a fresh brand identity. Southend Borough Council claims the resort attracts about 6m visitors a year, but it wants to find ways to lure people outside the summer season.
A fresh logo and website have been unveiled, and events planned for this year include a film and Polish festival. 'Southend has a much more sophis­ticated offer than many might imagine,' says Scott Dolling, group manager for tourism and promotions at Southend Borough Council.
Although resorts may, rightly, want to spruce up their image, they should not stray too far from their roots; what makes them unique. Nicolas Mamier, European vice-president of branding consultancy Elmwood, argues that towns need to re-invent themselves while remaining as authentic as possible. 'Towns must juxtapose traditional offerings with modern values,' he says, adding that rebranding is easier for some than others. 'I'm not so sure about Southend. But Brighton has proved seaside cities can reinvigorate perceptions with the correct marketing activity.'
Brighton underwent a major re­brand 18 months ago, positioning it as 'the city by the sea' and a modern UK seaside destination. 'It needed a new image and a voice that would challenge tacky preconceptions of it,' says John Carmichael, marketing manager at VisitBrighton.
As part of the overhaul, it has intro­duced festivals and tied up with media partners such as Time Out, which produces pocket guides to the town. This year, it will host Europe's biggest extreme-sports festival, WhiteAir.
Carmichael says the events attract a wide mix of people. 'As well as attrac­ting UK visitors we also work with overseas PR agencies in France and Germany, where the UK seaside resort is very classy and high-profile,' he adds.
The 50s heyday of the British seaside resort may be over, but a new type of UK beach holiday has emerged. The key to its success is whether visitors are willing to buy into the image.