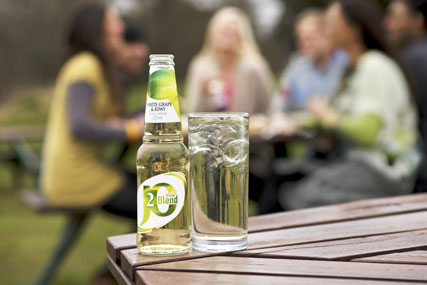 The "Lighten up" campaign includes a dedicated microsite designed to improve its visitors' moods during the onset of winter.
The website lets people upload a photograph of a friend and distort their features. They can then send a message to their friend, who will see their warped visage appear in a virtual snow globe.
The website includes a recipes section, where celebrity chef Simon Rimmer tells users how to create dishes that are complemented by the taste of White Blend. The site also tells visitors where they can find their nearest J2O stockist.
Awareness of the microsite is being built through online banner ads on high-traffic websites, and a series of partnerships with lifestyle websites.
The digital push is being backed by on-trade marketing activity. To drive distribution, Britvic will offer competitive wholesale deals, including free glassware and "Lighten up" point-of-sale kits.
Ian Patefield, Britvic's licensed channel marketing manager, said: "Adult soft drinks continue to offer a significant opportunity for pubs that are using food to drive their sales.
"Research has shown that soft drinks sales have overtaken spirits in the on-trade and this is largely due to the fact that they are often bought with food. J2O is one of very few soft drinks designed specifically to complement food.
"With millions of instances of people visiting pubs and bars during the winter period, licensees should be stocked up to take advantage of the sales opportunity."
White Blend comes in two flavours – White Grape and Kiwi and Red Grape and Blackcurrant. In August, BBH launched a pan-European campaign promoting the brand.