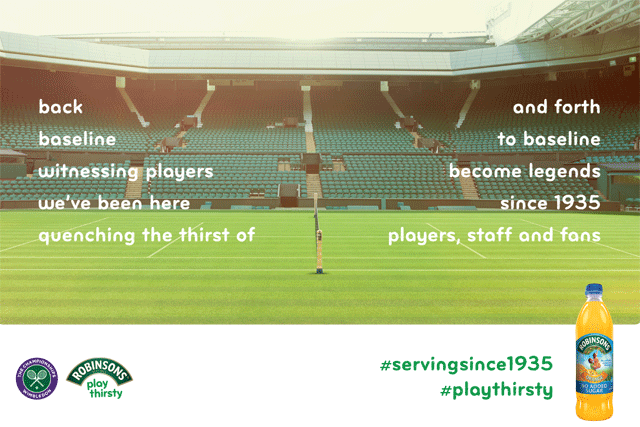 I still get a real buzz just walking into the grounds at Wimbledon, it is an amazing sporting event and it is thrilling to be involved in the Championships. I'm extremely proud to be working with Robinsons, a British family brand, synonymous with one of the most globally well-known sports Championships.
Robinsons lemon barley water was actually created in the changing rooms at Wimbledon back in 1934 and has been the official drinks supplier for the past 79 years.
This unique history between the two brands is something we are always going to be proud to celebrate. Robinsons is enjoyed by millions of families and our campaigns reflect this, we listen to families' needs and combine this with Wimbledon to deliver relevant and engaging campaigns year after year.
While we maintain links to the past through traditions such as branding on the Umpires Chair and supplying Robinsons Barley Water on court we have also evolved both our message and the ways in which we engage with people.
This year for example we introduced a new initiative intended to get families playing together and have driven this through social media and digital channels. We have Judy Murray as part of our team, which has been fantastic.
Together we have created four inspiring short videos which we have driven online. Each video contains a game, with a tennis focus of course, for families to play together at home.
Evolution of the partnership

If a brand doesn't have clarity on its purpose, or a coherent visual language it is very difficult to cut through
We recognise that Robinsons' audience is broad and their media consumption habits mean they connect to the brand differently, we therefore combined traditional media with digital and social media. The key to success is staying true to our brand purpose, being consistent in our messaging and delivering it at scale.
Next year will be our 80th anniversary with Wimbledon, so as you would expect this will be a key focus for us. We have a lot of really exciting ideas in the pipeline which I'm not going to reveal at this point. However I have no doubt that it will be memorable.
Moving from Diageo to Britvic
There are probably more similarities than differences [between Diago and Britvic], in both categories the key is to have great tasting products, strong brands that people want to be seen drinking and broad distribution.
Of course there are some real differences - most obviously our products are enjoyed by all family members, including children and young adults. Also our brands tend to be very frequent purchases whereas alcohol and in particular spirits tend to be more infrequent.
As such, it is key for us to have breadth of penetration and for our brands to be widely available and visible.
My biggest challenge in marketing right now

Having your brand stay top of mind with a broad group of consumers in an increasingly fragmented environment, I think, is one of the biggest challenges.
In this environment I believe the brands that will win will be those that manage to be coherent and relevant across multiple touch points. We, as consumers, are bombarded with brand messages throughout our day and brands that are inconsistent with their messaging confuse.
If a brand doesn't have clarity on its purpose, or a coherent visual language it is very difficult to cut through. Robinsons is a good example of a brand with a clear purpose and vision, it aims to inspire more moments of happy family play which has been central to our 2014 Wimbledon campaign.