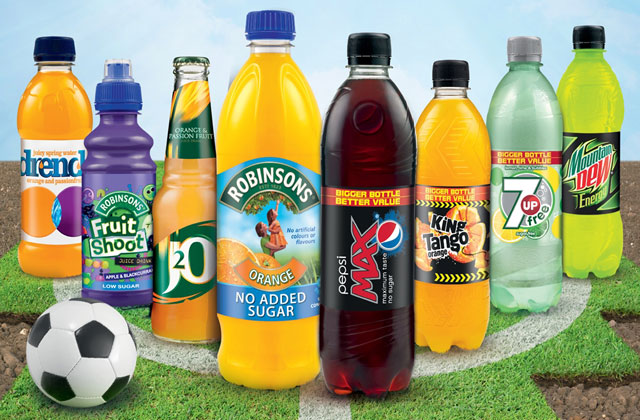 The aim is to help people better use the outdoor spaces available to them for sport, activities and recreation.
The promotion will run across Britvic and PepsiCo UK's entire portfolio of leading soft-drink brands, including J2O, Robinsons, Pepsi, Tango, 7UP, Fruit Shoot, Drench, Lipton Ice Tea, Mountain Dew, R Whites and Britvic.
PepsiCo, which is US-headquartered, has a bottling and distribution deal with Britvic for its UK brands.
Britvic and Groundwork have identified 165 outdoor spaces in need of work in order to make them fit enough for communities to "socialise together, exercise, stay healthy and enjoy a sense of well-being," which the company identifies as "key ingredients for a better and stronger society".
The sale of each promotional pack will translate to the "transformation" of one square centimetre of land in the UK.
Each brand will correspond to a different project. Pepsi sales will contribute to five-a-side football pitches, Robinsons and Fruit Shoot to playgrounds, J2O, 7UP, Lipton, R Whites and Juicy Drench to communal parks and picnic areas, and Mountain Dew and Tango to skateparks
Britvic and PepsiCo UK have split the community projects evenly across the 11 regions of the UK.
Within each region, four projects will be shortlisted for the chance to receive an added level of investment, creating 11 scaled-up projects nationwide.
Amanda Thomson, marketing director at PepsiCo UK, said: "'Transform Your Patch' has the power to make a real difference to communities throughout the country. By working with Groundwork to transform outdoor spaces, we will create more opportunities for people to get outside and enjoy themselves, be it to meet friends for a picnic or kick a football around.
"The Pepsi Max brand has a long association with football and it's great to deliver a campaign that will not only boost sales, but also give people access to brand new five-a-side facilities."
Simon Litherland, GB managing director at Britvic Soft Drinks, said: "From skateparks to picnic areas, not only will it help transform the visibility and credibility of our brands in a highly competitive market, but, more importantly, 'Transform Your Patch' will bring people together, fuelling social change and helping local communities create a lasting legacy they own."
The campaign, created by Arnold KLP with television work by AMV, launches in February and will run until October.
It features all the brands in the same TV ad for the first time, supported by radio, outdoor, digital, point of sale, and PR activity. Celebrity ambassadors will be announced in due course.
The activity will drive consumers to an online community forum, www.transformYourPatch.com.
Follow Loulla-Mae Eleftheriou-Smith on Twitter @LoullaMae_ES