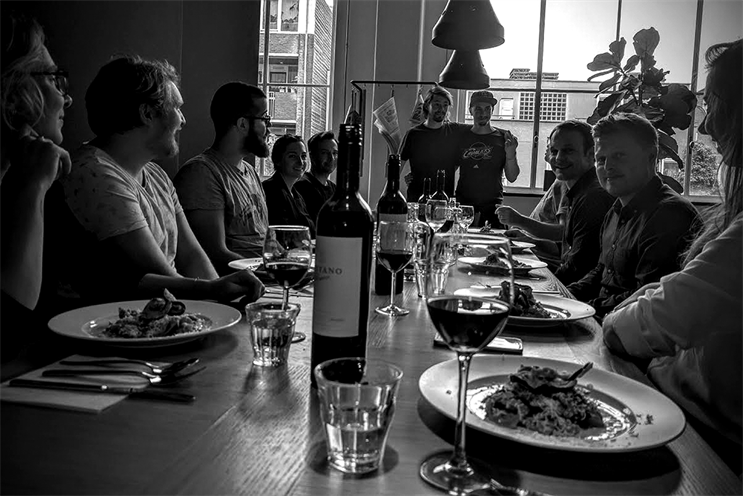 Nic Owen
managing director
72andSunny Amsterdam
It goes without saying that the Brexit referendum result was a real shock for the European community. The impact that the UK leaving the Union will have on business and creativity is still very unclear. Amsterdam is a leading contender to take up the successful entrepreneurial mantle that London has arguably held within Europe for the past few decades. The city is already a world leader in biotech. In 2015, the start-up scene was worth more than €10bn and the city has created a biotech cluster that hosts almost 300 companies.
Amsterdam's open-business policy has been attracting international companies and talent from all over the world, enriching the city's culture and acting as a catalyst of innovation. The city has an inventive heritage with a vibrant trade culture and a solid track record for creative innovation, making Amsterdam the natural choice for 72andSunny's European office.
Progressive work
Inclusivity, diversity, tolerance and innovation. These values are shared and celebrated by Amsterdam and 72andSunny, and are most vividly showcased in the progressive work we have created for brands, such as celebrating tolerance with Benetton, redefining the image of Marseille with Google, smashing male stereotypes with grooming brand Axe and harnessing the power of inclusivity for Smirnoff.
They also feed into the culture of our agency and the talent we attract. We seek people who choose to live in Amsterdam for the right reasons. A healthy mix of local and international talent drives us forward. This means that ambition and growth are always aligned with doing the right thing, by our people and through the work we produce.
So a desire to do good, embedded in the most open city in the world, leads to a spirit of entrepreneurship at 72andSunny Amsterdam that pushes culture forward, rather than merely making an impact on it, giving ourselves and our brands an edge in today's society.
---
Campaign "We're open"
Brand Smirnoff
Client Diageo
Medium Integrated, including cultural outreach
The story "We're open" is a platform promoting openness and inclusivity towards people, experiences and ideas that make good times better for all.
Campaign "First never follows"
Brand adidas
Client adidas Football
Medium Film and digital
The story adidas wanted to dominate football's pre-season speculation. So we hijacked sports culture, told creators not to listen to the noise and proved that adidas never follows.
Campaign "Find your magic"
Brand Axe/Lynx
Client Unilever
Medium Integrated, global
The story To launch its new grooming range, Axe celebrated the idio-syncrasies that make guys attractive, enhancing the campaign with grooming tutorials.
Campaign "Les heures magiques"
Brand Google
Client Google France
Medium Experiential
The story Parisians were invited to rediscover their city at night, with a mobile-first experience at the heart of the campaign.
72andSunny Amsterdam in numbers
5 office dogs (Chewy, Luna, Rosa, Einstein and Faye)

10 Number of social clubs initiated by 72andSunny staff

27 nationalities in our office

11 average number of minutes it takes staff to get to/from work

150 staff
Personal growth
At 72andSunny Amsterdam we strive to be a platform for personal growth and creative self-expression. By putting our people first, we believe it will inevitably pay forward to our creative output, benefiting ourselves and our partners creatively and commercially.
We foster a culture that encourages curiosity, generosity and the adoption of a learner mentality. This makes us more open to new ideas and taking risks, while collaboration comes as second nature. We like to get ideas off individuals' computers and onto our walls as soon as possible. This transfers ownership to everyone. It means we can all use our skills to make the work deeper, broader, better. There is no room for preciousness here. It's how we get to progressive, provocative work more quickly.
We are also hugely proud that our staff own the culture here – all ideas are welcomed and encouraged. Amsterdam office initiatives include our own rain gear brand, RAYNSIE, the Italian lunch club and the La BeeBeene wine project.