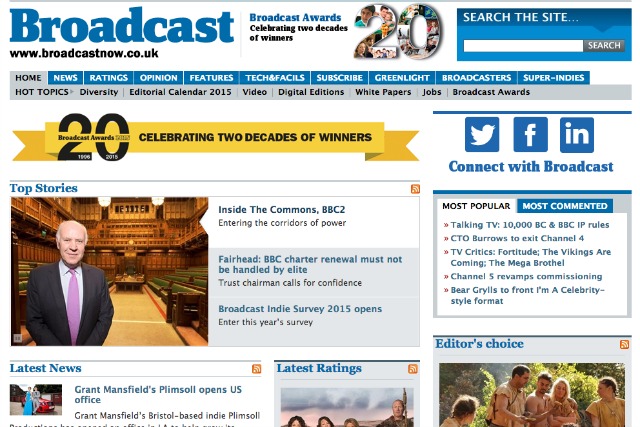 Media Business Insight was spun-off from Top Right in 2012 and is led by the chief executive, Conor Dignam, a former editor of Broadcast. The group has been in the market for a partner to fund a buy-out ever since.
Mobeus Equity Partners and Tenzing PE provided a combined debt and equity package to support the buyout. Neither Top Right nor Mobeus would comment on the value of the sale, but it is reportedly in the region of £10 million.
Media Business Insight group employs 70 staff and has an annual turnover of £11 million. It has four main products: Broadcast, covering the UK TV sector; Screen International, covering international film markets; Shots, covering international ads; and Alf, a marketing and advertising database.
Dignam said: "We have transformed our business since 2012, bringing in additional digital expertise and developing multiple brand iterations to better serve our customers.
"Having met with a number of different potential funding partners Mobeus stood out with its ability to mobilise quickly, use its previous sector expertise to rapidly get to grips with our business and deliver on what they promised against a challenging timetable."
Funds from the sale will be ploughed back into Top Right Group, and used for acquisitions.
Duncan Painter, chief executive at Top Right Group, which used to be known as Emap, said: "We believe Mobeus is an excellent partnership for the MBI business. Their investment will enable the management team to further develop the valuable information MBI provides to its customers across multiple platforms. We wish them every success with their plans for the future."
In 2012 Emap sold its car data division, CAP, for £175 million to Montagu Private Equity
Chris Price, the investment director at Mobeus, said: "From our first meeting we felt that we had identified our primary requirement in MBI, namely a business run by enthusiastic and committed people. We look forward to supporting Conor and his team over the next few years as together we invest in the business to build on its market leading positions."
Top Right continues to publish titles including Retail Week and Nursing Times, and produce events like Cannes Lions. It was the subject of a buy-out in 2007 by Guardian Media Group and Apax for £1.1 billion.
The deal was done at the top of the market before the global financial crisis. Guardian Media Group and Apax have since written down the value of Top Right Group.
Top Right Group generated revenue of £271.4 million in 2013