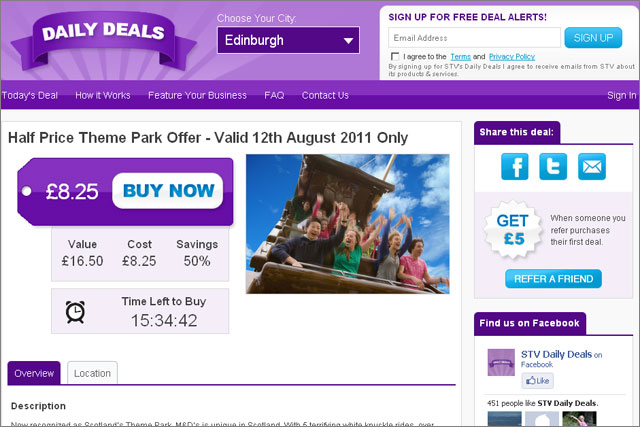 Subscribers to the free service will be sent locally targeted deals for Glasgow or Edinburgh in daily email alerts. Other Scottish cities will be added to the service in due course.
STV's classical sales team has been working with local businesses such as restaurants, beauty salons, operators of adventure day outs and hotels in order to offer a wide range of deals across the two cities.
Daily Deals will be supported through promotional emails and digital activity for the rest of the month and then will be promoted with a TV campaign from September.
Rob Woodward, chief executive of STV, said: "Daily Deals will provide an exciting platform and potential new customer base for our advertisers whilst allowing us to offer fantastic deals providing excellent value to the consumer."
STV has partnered with the American white label digital coupon and daily deal platform provider Analog Analytics for the Daily Deal service.
Mike Ferguson, head of classified at STV, said: "This brand new venture delivers a fantastic opportunity for our advertisers in Glasgow and Edinburgh to showcase their services and share their best deals with the STV audience.
"The service will cover a wide range of sectors and target both men and women, offering great deals for everyone."