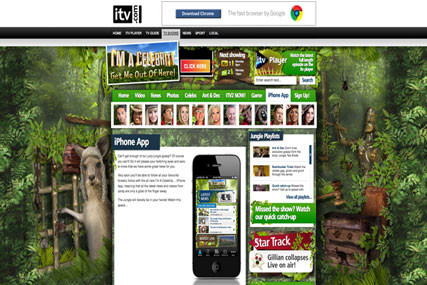 According to industry sources, several major broadcasters and production companies are putting the finishing touches to TV formats that tap into the growing popularity of Facebook, Twitter and Foursquare.
The hope is that participation TV formats using social media and mobile apps will allow broadcasters such as ITV and Channel 4 to attract new advertisers, as well as generate revenue from consumers.
Pete Ward, managing director of digital production house Quizzino, confirmed that he was 'developing a next-generation interactive TV format with a major broadcaster', with a gaming or gambling theme.
ITV identified I'm a Celebrity… Get Me Out of Here! as the ideal show for a mobile voting app (Marketing, 24 November), although the app had yet to be launched as Marketing went to press.
However, experts believe that this is the tip of the iceberg. Mobile Interactive Group's creative director, Ben Cusack, said: 'TV formats are created and then the mobile interactivity is built to fit the show.
Now, however, broadcasters are looking at how to interact and engage with viewers via online, mobile and red button, and building the format around that.'
Cusack claimed broadcasters could do far more to boost the interactivity of shows. 'We know people have their devices active in front of the TV and are using Twitter. We just need the apps to allow them to interact,' he said.
Smartphones also hold GPS data. 'This opens up TV to location-based elements,' he added. 'For example, it is now possible to develop formats that pit different locations against each other, say, the North of England against the South. These kinds of apps offer great engagement and new revenue streams.'
The security and reliability of wi-fi-enabled apps is an important draw for broadcasters. 'Interactive services have to be watertight,' said Cusack.
The first wave of next-generation formats are expected to launch in the first half of 2011.