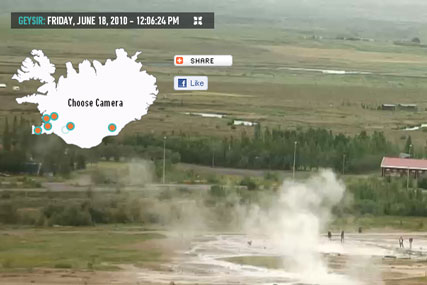 Funded by a consortium that includes the Icelandic government, the Icelandic national airline Icelandair and low-cost airline Iceland Express, the campaign kick-started with 'Iceland Hour' where the 320,000 inhabitants of the world's northernmost nation went online to send messages about what they love most about Iceland to friends around the globe.
The campaign is "designed to get fans of the country to go online and inspire tourists to visit Iceland this summer", according to Brooklyn Brothers. It follows disruptions to air travel caused by the recent volcanic eruptions.
It will run in Europe and the US and features documentary shorts, live webcasts, viral videos, websites, Facebook pages and Twitter feeds and will be promoted through print and television advertising. A viral encouraging people to visit Iceland will also be seeded on YouTube and Vimeo.

In its first three weeks, the campaign has generated over 2.2m stories and online contributions.

Katrín Júlíusdóttir, minister of industry for Iceland, said: "To see so many people back our campaign has been incredible. We've been able to tell the world that Iceland is a country that can inspire everyone who comes here."

Artist Yoko Ono, comedian and raconteur Steven Fry, actor Viggo Mortenson and singer Bjork are amongst a growing number of high profile celebrities who have been involved in the campaign.

Brooklyn Brothers and Islenska handled the creative for the campaign, while M2M covered media planning and buying.