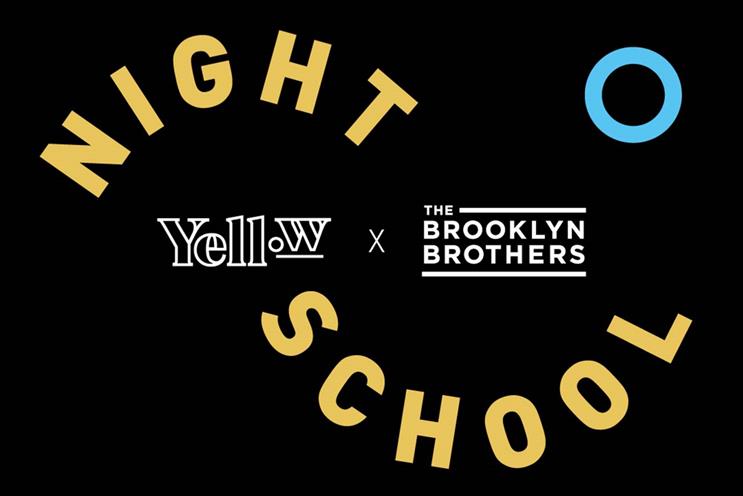 The Brooklyn Brothers has teamed up with creative publication Yellowzine, which celebrates the work of minority-ethnic artists, to attract people from black, Asian and minority-ethnic backgrounds into the creative industries.
Night School, a free eight-week training programme running in London and open to all 18- to 25-year-olds from BAME backgrounds, aims to tap into future creative talent, help them develop core skills and provide networking opportunities.
It has been designed to address the underrepresentation of talent from diverse backgrounds in the industry, including at The Brooklyn Brothers. Sessions will run in the evening to fit around participants' existing commitments and will focus on creativity and craft, featuring speakers from Yellowzine's community and the wider creative industry.
Night School recruits can tap into benefits after they finish the programme, with the aim of helping them secure a job in the industry. This will include a mentor for 12 months, help with a personal "'manifesto" for their CV and a graduation ceremony where they can present their manifesto to industry contacts, agencies and recruiters.
George Bryant, founder of The Brooklyn Brothers, said: "As an agency, we focus on helping brands to rise above the noise and have a place in culture. Our aim for The Brooklyn Brothers is simple – to find raw talent who can bring their skills and creativity to the industry."
Aisha Ayoade, co-founder and chief editor of Yellowzine, added: "Night School is a part of Yellowzine's movement for the progression of African and Asian diaspora creatives in the UK. We've seen that 'diversity' and 'inclusion' have become the biggest buzzwords in the advertising and creative industries but, in reality, diversity rates are at a standstill."