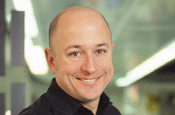 Brooks joins the planning partner Patrick Griffith and creative partner Andy Sandoz at the agency, which opens its doors this week.
Work Club will not use traditional copywriter/art director creative teams, but will team up one creative with one planner to create ideas. It will then hire outside specialists in the UK and overseas to produce most of the work itself. The agency will charge clients a set fee for strategic thinking, plus production costs later down the line.
As well as advertising, the agency plans to produce content, services, tools and events both online and in real life. These could range from original online tools that people could use on social networking or gaming sites to real life events that are originally promoted online.
"Our start point is 'what can brands do for people?' rather than 'what should we tell people about our brand?'" Brooks said.
"Many clients have recognised that paying full-service agencies in London to produce standard assets no longer stacks up, so we're not about to build a huge studio," he added. "Instead, we're putting together a network of international production partners offering a more efficient and economical product."