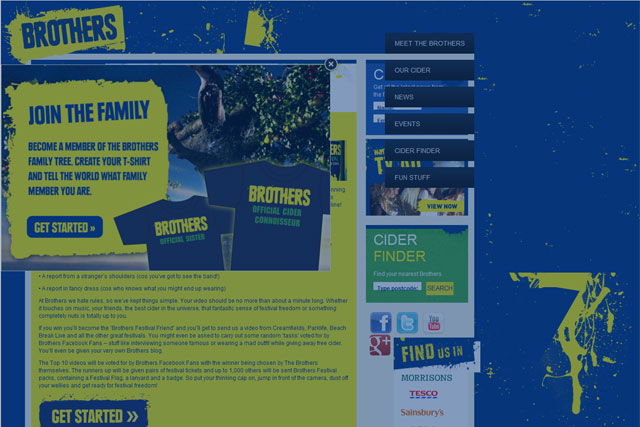 The text from the competition, which was run online, stated: "At Brothers we hate rules, so we've kept things simple".
The competition went to outline the rules, which stated that the top 10 entrants would be chosen by a public vote, before the winner was chosen by judges.
Participants had to make a short video, which showed off their festival-presenting skills, before posting it onto the brand's Facebook page.
However, a member of the public complained to the Advertising Standards Authority (ASA) that the competition was administered unfairly, after the rules were changed both before and during the competition.
Brothers defended itself by saying it first changed the rules of the competition after receiving a negative reaction to the idea of a public vote from Facebook fans, after people claimed it would discourage them from entering.
Instead, it was decided that judges would decide the top 10 entries and, although the terms and conditions were changed on the Facebook page, the brand forgot to change the rules on the news feature on its website.
Once the competition had begun, Brothers claimed the judging panel had trouble choosing between its favourite four entries and so decided to canvass Facebook fans for their opinions.
Consequently, the ASA ruled the fans' opinions would have some influence on the selection of the winner and therefore considered the terms and conditions of the competition had not been properly respected in terms of choosing the winner.
The ASA has ruled that the competition, which ran from 21 March to 21 May, must not be run again in its current form and has warned Brothers Cider to ensure it has suitable terms and conditions in place to administer future competitions fairly.
Follow @mattchapmanuk