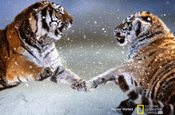 Created by Brothers and Sisters, the ad animates a selection of still images from footage from blockbusters including Blood Diamond, Déjà Vu and documentaries Hunter Hunted.
Footage includes minute detail of flakes kicked up by tigers fighting in the snow and specks of dust and shards of broken glass flying as Leonardo DiCaprio ducks out of danger in Blood Diamond. All are intended to demonstrate the full benefits of HD.
The ads were created by Ross Parr and brought to life by Charlie Cassidy. Each shot was manipulated using After Effects technology, and breaking the shots into hundreds of individual layers.
The ad is the latest in a series that showcase the range of content available in Sky HD.