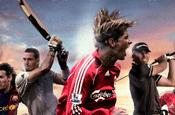 The digital, print and outdoor campaign celebrates the fact that five major sporting events will be available on Sky Sports next season: Premier League and Champions League football, The Ryder Cup, The Ashes Series, and the British Lions Rugby Union Tour.

To accompany the images, a strapline reads: "Five epic contests. One amazing season."

Some of the creative will be regionalised, swapping the featured players so that they centralise around local sporting heroes.

The executions will also be used at all 20 Premier League stadiums, each tailored to involve the respective team's own players.




Credits

Project Epic
Client Sky Sports
Brief Promote the biggest sporting year ahead that Sky Sports has ever had
Creative agency Brothers and Sisters
Writer Tom Evans
Art director Tom Evans
Planner Olly Wicken
Digital art directors Mark Harris, Kevin Brown
Digital designer James Garnham
Digital developer Jon Rowe
Media agency MediaCom
Media planner Liam Dawson
Exposure 48-sheet and 96-sheet posters, national press, weekly and monthly magazines, in-stadia media